Wednesday, July 19, 2017
Garcia Earns SU's Allen Memorial Award for Military Veterans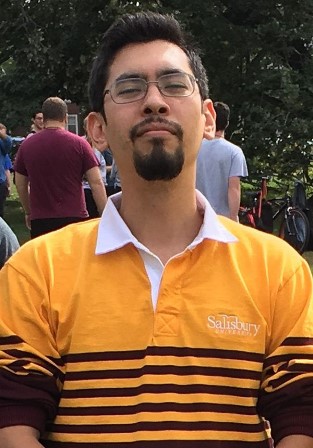 SALISBURY, MD---Salisbury University graduate student David Garcia of Mt. Laurel, NJ, is the 2017 recipient of the campus' Terry D. Allen Memorial Award for Military Veterans or Active Military Persons.
The award was created by Dr. Diane Allen, recently retired SU provost and senior vice president of academic affairs, in memory of her late husband, Terry. A retired lieutenant colonel in the U.S. Army Reserve, Terry became part of the campus community after the Allens arrived in 2009, and helped advise SU's Student Military and Veterans Association (SMVA) until his death in 2013.
Garcia served more than four years in the U.S. Army before returning to college following his honorable discharge in 2010 and enrolling as a graduate student at SU in 2016. He is a member of Salisbury's SMVA and a resident director in the Housing and Residence Life Office. He is pursuing his M.A. in conflict analysis and dispute resolution.
The Allen Award is given annually to a veteran or active military student who exemplifies outstanding contributions to the greater campus community through service at the junior or senior class levels.
"Terry was very proud of the service the young men and women in the student veteran group give to our country," Allen said.
Garcia is a 2005 graduate of Lenape Regional High School in Medford, NJ. He earned his B.A. in English from Rutgers University-Camden in 2016.
For more information, call 410-543-6030 or visit the SU website at www.salisbury.edu.