Tuesday, May 18, 2010
Former Congressman Wayne Gilchrest Donates Collection to Nabb Center
Pictured (from left) are Dr. Diane Allen, provost and senior vice president of academic affairs; Dr. Alice Bahr, dean of libraries and instructional resources; Dr. Ray Thompson, Nabb Center director; SU President Janet Dudley-Eshbach; former Congressman Wayne Gilchrest; Dr. Maarten Pereboom, dean of the Fulton School of Liberal Arts; Dr. Melanie Perreault, History Department chair; and Dr. Michael Lewis, Environmental Issues program director.
SALISBURY, MD---From official voting records and letters about sponsored bills to Iraq war documents and files on environmental issues, materials from the 18-year career of former U.S. Congressman Wayne Gilchrest now reside at Salisbury University.
The independent thinker, who championed Chesapeake Bay issues and was very concerned about Middle East policies, recently donated 18 boxes of organized files and other memorabilia to the Edward H. Nabb Research Center for Delmarva History and Culture. Students, faculty and the greater community will soon be able to use the wealth of information for research.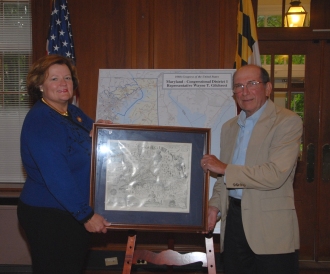 "I am grateful that Congressman Gilchrest chose Salisbury University to house his collection," said SU President Janet Dudley-Eshbach. "At the heart of the Nabb Center's mission is the preservation of papers from individuals who have represented Delmarva in regional, national and international arenas. These materials will be used by generations of students and scholars, and will eventually have a home in our new library."
Dr. Ray Thompson, Nabb Center director, echoed appreciation for the new collection: "Congressman Gilchrest was involved in undertakings that not only had a profound impact on the state of Maryland, but also influenced the course of American history. It's a real coup for the University to have his materials. The documents are outstanding primary sources and we thank him for the great research opportunities that he has provided."
A few SU students have already explored the archives.
"The materials will prove useful to political science, environmental issues and history majors," said Dr. Michael Lewis of SU's History Department. "In fact, senior Adrianne Witkowski examined some the documents for a project on the proposed Delmarva Conservation Corridor. She interviewed Congressman Gilchrest, and her oral history will be added to the collection. Overall, it has particular strength not only in the area of Chesapeake Bay environmental policy, but also Middle East policy. The Congressman, a Vietnam veteran, closely monitored the wars in Iraq and Afghanistan."
Dr. Dean Fafoutis of the History Department is organizing the collection, creating a finding aid, and protecting documents in acid free folders and boxes. Among the memorabilia is a framed pen that Gilchrest used to sign the Estuaries and Clean Waters Act of 2000. The entire collection is expected to be publically available in the Nabb Center by fall 2010.
Not only has Gilchrest provided SU students with unique research opportunities, he also is sharing his legislative experience first-hand. When his nine terms of service to Maryland's 1st district ended in the 2008 election, the legislator took a brief hiatus from politics. This spring, he came to SU to help educate the next generation of leaders. He has been teaching "The Environment and the Political Process" to 33 eager SU students.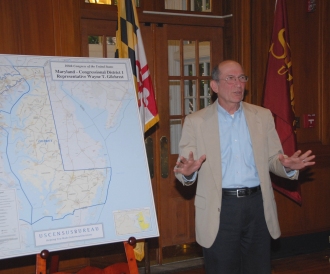 "I feel honored to be teaching this class and have my boxes of 'stuff' moved from my garage and put in a suitable place," Gilchrest said. "I hope students can learn about process and policy, and gain insight to be leaders of the future who make the world a better and more beautiful place. They certainly have enormous challenges in front of them."
Gilchrest, whose own son Joel studied political science at SU, called the campus "an extraordinary place" for education. "Having served 18 years in Washington, I started to become discouraged over the years," he said. "But having spent just a few months here, I'm much more optimistic."
This is not the Congressman's only connection to SU. In 1993, at his suggestion, Republicans held congressional workshops on campus. It was in those meetings, inside the Social Room and Great Hall of Holloway Hall, where Newt Gingrich led his party in drafting the historic Contract With America. This reinvigorating initiative allowed them to take control of the U.S. House of Representatives in 1994 elections.
In 2001, Gilchrest also was instrumental in securing a $266,000 two-year federal appropriation for the Nabb Center to digitize a portion of its vast archives and make it available on the Internet. Funded through the National Institute of Museums and Library Services, this American Origins project used cutting-edge GIS technology.
The center is also home to collections from other political leaders with roots on Delmarva. They include Salisbury natives Bertha Adkins, undersecretary of the Department of Health, Education and Welfare in the Eisenhower administration, and Mary Nock, the second woman elected to the Senate and its first female President Pro-Tem. In addition to papers, Nock's collection features her portrait, desk and chair from Annapolis.
For more information call 410-543-6030 or visit the SU Web site at www.salisbury.edu.