Friday, March 7, 2014
Ethnomusicologist Nagoski Speaks at Downtown Gallery Thursday, March 13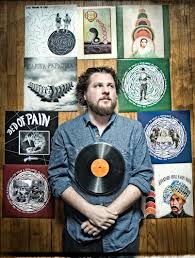 SALISBURY, MD---For Ian Nagoski, music is an audio window into the past.

The founder of Canary Records and host of the Internet podcast Fonotopia discusses his efforts preserving early rare world music recordings during the presentation and listening session "The Widow's Joy: Pride, Genius, Grief and Lies from International 78 RPM Recordings" 7 p.m. Thursday, March 13, at Salisbury University Art Galleries — Downtown Campus.

Nagoski has long been interested in the nearly forgotten music he now helps preserve. As the (now former) co-owner of True Vine, a record store in Baltimore, the ethnomusicologist discovered rare and obscure recordings among his purchases for the store. They included everything from early 20th-century Greek ballads, Afro-Cuban rumbas and Bollywood soundtracks to the earliest psychedelic music, recorded in Mexico in the 1940s.

In 2007, he released a collection of his finds on the album Black Mirror: Reflections in Global Musics. It caught the attention of critics from Baltimore's City Paper, which hailed it as "enigmatic, transfixing, haunting, pretty and just plain odd," to the academic journal Ethnomusicology, which lauded it as an exceptional collection. A second compilation, A String of Pearls, followed.

Presented by LORD C and sponsored by SU Art Galleries, admission to his talk is free and the public is invited. For more information call 410-548-2547 or visit the SU Art Galleries website at www.salisbury.edu/universitygalleries.