Friday, September 10, 2010
Dr. Michael Scott to Lead State Geographic Information Committee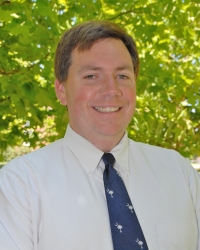 SALISBURY, MD---Salisbury University's Dr. Michael Scott has put himself on the map—again.

Scott was recently named chair-elect of the Maryland State Geographic Information Committee (MSGIC) for 2010-2011. He will chair the committee the following year.

"Dr. Scott has been instrumental in developing geographic information system (GIS) programs and research projects at the University," said Dr. Karen Olmstead, dean of the Henson School of Science and Technology. "His selection reflects the quality of the work within the Department of Geography and Geosciences, and his ability to provide leadership and vision for GIS efforts statewide."

Representing over 550 GIS professionals in Maryland and beyond, the committee coordinates GIS activities within the state. According to Scott, this is the first time an individual from academia or from the Eastern Shore has held the position.

While chair, he will lead the committee in developing resources among those who are collecting and using spatial data and GIS technology. The committee also provides advice on GIS issues to the Governor's Office and the legislature, develops standards for GIS work, and advocates for GIS expansion throughout the state.

Scott is the program director for SU's Master of Science in GIS Management. He is also director of the Eastern Shore Regional GIS Cooperative at SU. Since arriving at SU, he has initiated and/or participated in some 75 funded GIS projects totaling more than $1.5 million.

In 2009, Scott earned the University System of Maryland's (USM) prestigious $80,000 Wilson H. Elkins Professorship. In 2007, he became the Eastern Shore's first certified GIS Professional. He earned his Ph.D. in Geography from University of South Carolina in 1998 and specializes in the areas of GIS, cartography and environmental hazards.

For more information about the committee, visit www.msgic.state.md.us. For other details, call 410-543-6030 or visit www.salisbury.edu.