Wednesday, August 30, 2006
Delmarva Discussions Series Comes to SU This Fall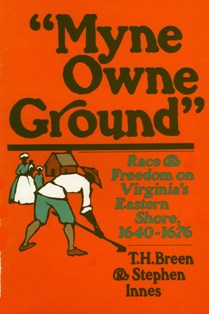 SALISBURY, MD---One of the region's most highly acclaimed community reading programs, Delmarva Discussions, comes to Salisbury University this semester with the series "The Chesapeake Bay: End of an Era."
Founded in 1984 by the Delaware Library Association, the program offers community discussions on books dealing with the history and heritage of the Delmarva Peninsula. The program expanded throughout the peninsula in 1988 thanks to a National Endowment for the Humanities grant and earned non-profit status last year. In the past 22 years, the program has sponsored more than 400 reading and discussion series.
Books in the series at SU capture differing viewpoints on the zeitgeist of the Chesapeake Bay region. The following discussions are scheduled:
--Tuesday, September 26 – T.H. Breen and Stephen Innes' Myne Owne Ground. The book focuses on changing social forces in Virginia that allowed African-American families to escape bondage, but pushed their descendants into slavery. Discussion leader is Dr. Clara Small of SU's History Department.
--Tuesday, October 10 – George Alfred Townsend's The Entailed Hat. The historical novel weaves fact and exceptional description into stories of the development of the Iron Furnace near Snow Hill, the kidnapping of slaves by the Patty Cannon gang and the unusual story of a hat willed to its owner's descendants. Discussion leader is Dr. Jeanne Whitney of SU's History Department.
--Tuesday, October 24 – Gilbert Byron's Done Crabbin'. The novel tells a story of growing up on the Chester River during the halcyon days prior to World War I. Discussion leader is Dr. John Wenke of SU's English Department
--Monday, November 6 – John Wennersten's Maryland's Eastern Shore. The book charts the evolution of both the region and its people, and characterizes the lifestyle of the Eastern Shoreman. Discussion leader is Dr. Ray Thompson of SU's History Department.
--Tuesday, November 21 – Tom Horton's Bay Country. The book of essays by the veteran environmental reporter provides a portrait of an estuary in decline under the pressure of a burgeoning population. The author leads discussion.
All discussions are 7-9 p.m. at SU's Blackwell Library. Refreshments are served. Those attending are asked to have read the books in advance. Books are available for borrowing at the library.
Sponsored by the Delmarva Discussions and SU's Fulton School of Liberal Arts, Edward H. Nabb Research Center for Delmarva History and Culture, and Office of the President, the series is free and the public is invited.
For more information call 410-543-6030 or visit the SU Web site at www.salisbury.edu.