Wednesday, October 21, 2015
De Temps Antan Performs at SU November 17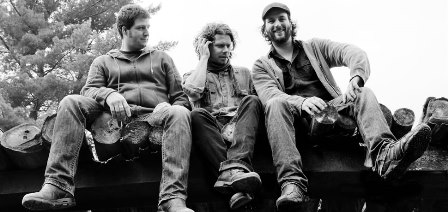 SALISBURY, MD---The folk traditions of French Canada come to Salisbury University as De Temps Antan takes the Holloway Hall Auditorium stage 7 p.m. Tuesday, November 17.

The Québécois music trio uses fiddle, accordion, harmonica, guitar and bouzouki, anchored by the "tac-tic-a-tac" of les pieds (a unique form of seated clogging) to produce the joie de vivre found in traditional French-Canadian music.

The group's music is influenced not only by time-honored melodies from Québec's musical past, but by the performers' world travels, field work and family ties. Their music has won honors including the Québec Association for the Recording, Concert and Video Industries' (ADISQ's) 2014 Traditional Album of the Year award for the CD Ce Monde Ici-Bas (This World Down Here).

Sponsored by the Cultural Affairs Office, De Temps Antan's SU engagement is funded through the Mid-Atlantic Tour program of the Mid-Atlantic Arts Foundation with support from the National Endowment for the Arts and the Maryland State Arts Council.

Admission is free and the public is invited. For more information call 410-543-6030 or visit the SU website at www.salisbury.edu.