Friday, February 29, 2008
DDHT Initiative, PAC 14 Preserve Shore History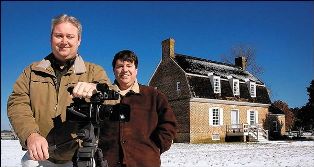 Mike Goodson, left, manager of Public Access Channel 14, and Mike Scott of the Pemberton Hall Foundation are joining others to launch a project to digitally videotape people and places on the Lower Eastern Shore. The initiative, Digitizing Delmarva's Heritage and Traditions, invites the public to share their stories. Walter West of Perryhawkin is shown with his old farm truck in the barn on his farm in Somerset County. Salisbury University and PAC 14 public access channel are hoping he and others like him will put their stories on digital video as part of a project to preserve Delmarva history.
By Brice Stump
Staff Writer
The Daily Times
SALISBURY, MD---History will go high-tech soon, as Public Access Channel 14 launches a campaign to digitally capture the Shore's present and past.
In an unprecedented venture, PAC 14 has garnered the support of more than a dozen history-oriented organizations to preserve Delmarva's past on video using the best of today's electronic technology.
Called Digitizing Delmarva's Heritage and Traditions, the project is being developed by Mike Goodson, manager of PAC 14, in conjunction with Salisbury University and the Lower Eastern Shore Heritage Council and other historical organizations.
Alarmed that much of Delmarva's oral history by older residents in particular is being lost, Goodson appealed to various group to support the undertaking. "Time is working against us. Our people, places and traditions are fading away before our eyes. In some cases our history is being washed away with the tides," he said. "Time is not on our side."
From the lives of watermen, artists and ball players to farmers recalling days of homemade sausage, scrapple and hams, Goodson and others want to save the charm and history of the old Eastern Shore.
Under Goodson's direction, PAC 14 has created a temporary part-time position that will deal exclusively with the production of "historical videos."
Tom Taylor, author and videographer, will handle production assignments now through July. By July, Goodson hopes that DDHT, as administered through Salisbury University, will have a SU history graduate on staff to continue the project.
With SU's support, Michael Scott, part of the university's geography and geosciences department, hopes the fledging project will endure for years. "Our goal is that this will become a national model for how public access stations can work with universities and other organizations to preserve their local history," he said.
Scott, who also served as treasurer for the Pemberton Hall Foundation, said it's imperative that this project succeed.
"When it comes to the danger of losing local traditions, we are in no way unique -- it's nationwide. I know of no other project in Wicomico County that has brought all these organizations together like this," he said. "We are starting with Wicomico County stories, but we want to expand across the Lower Shore as people call us to interview them or others. This is a critically important undertaking. As the Shore continues to grow and change, those things that we most hold dear, our history and heritage, are being lost. "
The concern about Delmarva's legacy prompted Goodson to apply PAC 14's services for immediate use. He believes the station and its viewers will benefit long-term from PAC 14's one-time investment. "It was also the right thing it do," Goodson said.
He is delighted that a number of historical societies share his opinion. They have pledged their support and $6,000 to make sure the DDHT project succeeds. Unlike some organizations and online services that restrict, limit or charge for use of history-related material, Goodson said PAC 14 history programs will be free to the public at all times.
"All of the DDHT programs will either air on PAC 14, be recorded to DVD for distribution via local libraries or be archived on the DDHT Web site," he said.
Goodson said PAC 14 hopes to produce two programs monthly and hopes the public will submit program topics to the station or through DDHT by March 3.
George Chevallier, president of the Wicomico County Historical Society, said the project is needed and hopes those involved in selecting topics will focus their attention on the aging population who have tales to tell of the Shore's past.
"We have to get to them first," Chevallier said."When they are gone, a lot of history goes with them. Many of these elderly people were first-hand witnesses to history made here. Many are the last to know the stories told by their parents, grandparents and great-grandparents. We need to save their stories. We have already lost a lot, but it is never too late to start." Chevallier said he hopes the project will eventually pick up enough momentum and strength to launch campaigns to save or restore historic structures.
"It will take cooperation and origination for this to work. Right now it seems those who have a role in saving history are more interested in lining their pockets than preserving history. A lot of us have given years of our time for free and spent lots of our own money preserving history for the love of it. Some individuals are going to have to make sacrifices for the good of the whole to make this a success," Chevallier said.
Phil Tilghman, former Wicomico County Council president, and non-paid host of PAC 14's weekly One on One program that spotlights community leaders and Eastern Shore characters, said he will conduct interviews for the first 24 programs, but he will be serving "off camera" so the person speaking will be the sole focus of the interview.
"My commitment will be short-term. People seem to feel comfortable working with me, and my off-camera role will be more to jog their memory and keep things moving," Tilghman said. "I think this is going to be the type of record we wish we had when we were kids. There is very little film or tape, for example, of life here in the '40s and '50s and this will be an opportunity for generations to come to see what life was once really like on the Eastern Shore with our traditions and wide-open spaces."
Bill Wilson, director of the Pemberton Hall Foundation, agrees.
"What we have already lost is irreplaceable. Think about the number of (deceased) people who had wonderful stories to tell that were not saved," Wilson said. "I hope this project can record the memories of hundreds of ordinary and extraordinary Eastern Shore people. This project is extremely important to the history of the lower Eastern Shore. If we can pull this off together, it will be the foundation for a collection of tapes that we won't have any other way. This will be an archive of tremendous, lasting importance."
Reprinted courtesy of The Daily Times