Thursday, October 3, 2013
Chamber Orchestra Kremlin Moscow Performance Canceled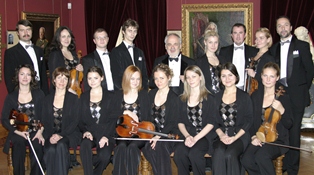 SALISBURY, MD---Due to travel delays, the October 8 Chamber Orchestra Kremlin Moscow concert at Salisbury University has been canceled.
A special "Dining on the Don" dinner, featuring cuisine from Russia and eastern Europe, that was scheduled in connection with the concert will still be held. The dinner is 4:30-7:30 p.m. in the Commons as part of University Dining Services' International Dinner Series.
The menu includes zharkoe pork, chicken paprikash, vegetarian mushroom stroganoff, noodles, pirozhki (Russian potato and cabbage turnovers), kartoshnik (potatoes with cheese and onions), ghivetch (Russian summer vegetable stew), black and rye breads, Russian tea cakes, Russian-style apple pie and ptichye moloko cake. Cost is $11.53, $7 for children age 5 and under.
For more information call 410-543-6271 or visit the SU website at www.salisbury.edu.