Tuesday, September 1, 2015
'Breaking Ships in the World-System' Lecture at SU Thursday, September 24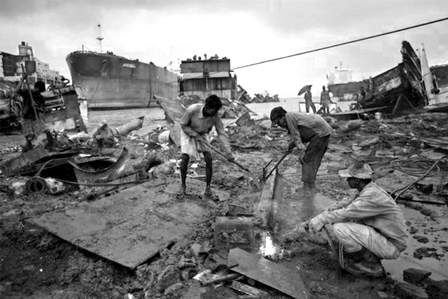 SALISBURY, MD---Ship-breaking is a colloquial term for the demolition of ships for salvage, including resalable parts and scrap metal. It's been called one of the most dangerous jobs in the world.

Dr. R. Scott Frey examines the practice, the companies that profit from it and the workers who risk their lives doing it during the talk "Breaking Ships in the World-System: An Analysis of Two Ship-Breaking Capitals — Alang-Sosiya, India, and Chittagong, Bangladesh."

His presentation, serving as Salisbury University's annual Multiple Dimensions of Inequality Lecture, is 6 p.m. Thursday, September 24, in Perdue Hall's Bennett Family Auditorium.

Frey is the co-director of the University of Tennessee, Knoxville's Center for the Study of Social Justice. He has held appointments at the National Science Foundation and Argonne National Library, and was a Senior Fulbright Scholar at the Vietnam National University of Social Sciences.

Frey has published in scholarly periodicals including the American Journal of Sociology, American Sociological Review and Social Forces. He is an associate editor of the Journal of World Systems Research, serving on the editorial boards of several other publications.

He is currently preparing a book, under contract with Routledge, examining how and why core-based hazardous products, production processes, and wastes are displaced to the peripheral zones of the world-system.

Sponsored by SU's Political Science and Sociology departments, Fulton School of Liberal Arts Dean's Office and Institute for Public Affairs and Civic Engagement (PACE), admission is free and the public is invited.

For more information call 410-543-6030 or visit the SU website at www.salisbury.edu.