Monday, February 9, 2009
Blues Musician Chris English Holds Benefit for SU Music Department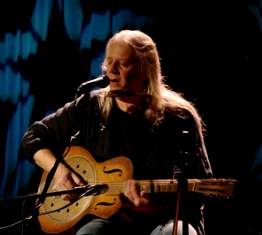 SALISBURY, MD---What do a 1930s guitar, a harmonica and an old Coca-Cola crate have in common? Salisbury musician Chris English can make them all sing.
These are just three instruments he uses in a quest to play and preserve the blues (he keeps time by stomping his foot on the Coke crate). Audiences will have a chance to hear English's musical stylings live in the Black Box Theatre of Salisbury University's Fulton Hall 8 p.m. Saturday, February 21. Funds raised during the performance benefit SU Department of Music Performing Arts Fund.
English began playing guitar at age 11. His older brother introduced him to the blues in the late 1960s, during his high school years. English concentrated on slide guitar and harmonica, teaching himself to play. He concentrated primarily on the Delta style of blues dominant in Memphis and parts of Mississippi.
Throughout the years he has learned the subtleties that make each type of blues special. He also uses vintage guitars from the '30s to replicate the sound and feeling of the blues he has studied and loves. He puts that sound to good use in his class "Blues: the Roots of Rock and Roll," which he created and teaches at SU.
His first album, Live at the Avalon, was recorded at the Avalon Theatre in Easton and released in 1996. His second album, Lowdown in the House, followed in 2004. A third album, Chris English 1-13-07, is soon to be released. Samples of his performances are available at
www.youtube.com/chrisenglishblues.
Sponsored by the Department of Music, admission to English's performance is free to the public. Donations to the Performing Arts Fund are appreciated. For more information call 410-543-6385 or visit the SU Web site at www.salisbury.edu.