Monday, September 22, 2014
Blackwell Library Commemorates Banned Books Week September 22-26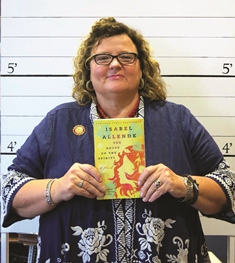 SALISBURY, MD---What do Harry Potter, Huckleberry Finn and Winnie the Pooh have in common? They all have been banned from school and public libraries in the United States.

Salisbury University's Blackwell Library pays tribute to these classic characters and their literary brethren during Banned Books Week.

From September 22-26, visitors to the library will see "wanted" posters featuring SU community members, including President Janet Dudley-Eshbach and Dr. Bea Hardy, dean of libraries and instructional resources, posing with their favorite banned books. They also may choose their own banned books, from a selection provided by the library, to pose with for their own mug shots.

Libraries and school systems ban books for a variety of reasons. Some, for example, find the Winnie the Pooh series offensive because its depiction of talking animals conflicts with the teaching of some religions. Others disapprove of the wizardry and witchcraft that serves as the basis of the Harry Potter series.

Mark Twain's The Adventures of Huckleberry Finn contains language that some find offensive, while others believe Madeleine L'Engle's A Wrinkle in Time is either too Christian or not Christian enough, depending on the audience. In each instance, these books were banned from certain libraries after an individual filed a complaint, usually following a review by a library board or director.

For more information call 410-543-6030 or visit the SU Banned Books Week website at http://libraryguides.salisbury.edu/bannedbooksweek2014.