Friday, May 24, 2013
Adelphi University Honors SU Professor Emeritus Garigliano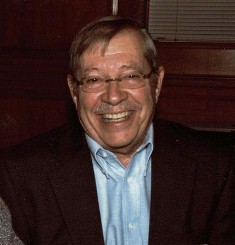 SALISBURY, MD---Dr. Leonard J. Garigliano, Salisbury University biology professor emeritus, recently received the Ruth S. Harley Distinguished Alumni Achievement Award from Adelphi University in Garden City, NY. The award was presented during Adelphi's 117th Commencement.
When asked to recall his fondest Adelphi memory, Garigliano '57 couldn't pick just one. "There are too many," he said. "I enjoyed every minute of my time at Adelphi." Involved in a wide array of activities at the University, he considered his position as co-president of student government to have been "the ultimate of experiences."
Garigliano entered Adelphi undeclared, but one course changed everything. "I took biology and said, 'this is where I belong!' Adelphi's professors were absolutely wonderful. They were all dedicated; they were excellent," he said. He went on to carve a career in education, and he credits biology professor Warren Eickelberg with turning him on to teaching. "Professor Eickelberg provided such an incredible model," he said. "He taught me so much about teaching, more than anyone had before."
After graduating from Adelphi, Dr. Garigliano spent more than 10 years teaching biology and other sciences at the middle school level. In 1973, after earning a master's degree and Ed.D. from the Teachers College, Columbia University, he joined the faculty at what was then Salisbury State College. Over the next 24 years, he rose to the rank of professor before retiring in 1997.
At Adelphi, he established an endowed undergraduate scholarship to support biology majors who are active on campus. The Leonard J. Garigliano '57 Campus Leadership Scholarship for Biology Majors helps ensure that Adelphi students benefit from the same experiences he treasured most during his years there.
At SU, a former student of his has worked with the Salisbury University Foundation, Inc. to establish a scholarship in his honor to help students interested in teaching mathematics and science.
For more information call 410-543-6030 or visit the SU Web site at www.salisbury.edu.