Thursday, November 8, 2007
Trinity Transport Inc. Creates $10,000 SU Scholarships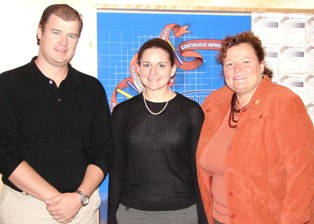 From left: Trinity Transport CEO Jeff Banning, scholarship recipient Erin Matonak and SU President Janet Dudley-Eshbach

SALISBURY, MD---One of the nation's fastest growing businesses and a leader in the transportation industry is establishing a special relationship with Salisbury University students that is translating into scholarship dollars.

Not only is Seaford, DE-based Trinity Transport Inc. creating internships and hiring Perdue School of Business alumni, it has created two scholarships through the SU Foundation, Inc. worth $20,000 annually.

Founded by Ed and Deana Banning in 1979, Trinity is now led by son Jeff, who hopes to impart his parents' values of hard work and community service to interns and employees.

"Trinity's operations and management style make this company a perfect fit for Salisbury University students," said SU President Janet Dudley-Eshbach. "We teach students that building positive relationships and involvement in the community are important components of long-term success in the business world, and beyond. This generous contribution creates a unique opportunity for our students at a nationally distinguished company whose practices reflect what we teach."

Trinity will fund two $10,000 scholarships each year for eligible Perdue School students maintaining a 3.3 grade point average. The company's contribution will increase as students renew those scholarships for up to $5,000 during their senior years.

"This allows the University and the Foundation to collaborate with one of the region's most cutting-edge and creative organizations," said Kim Nechay, director of development for advancement at SU and assistant director of the SU Foundation. "Trinity has a great team, and it's a wonderful opportunity for our students to get involved with and be a part of this firm."

Representatives from the Perdue School and Trinity will select the annual recipients. In exchange, winners will intern at Trinity during their junior and sometimes senior years.

Erin Matonak, a marketing major from Hagerstown, MD, earned the first scholarship this semester. Her duties at Trinity include marketing research, promotions and creating transitional strategies for 2008. "I was a little surprised and really excited about the internship," said Matonak. "I've never met a group of people so nice. If things continue to go well, I may have a good opportunity [after graduation] with their marketing department."

Though Trinity works with other colleges and universities, including Georgia Tech and Auburn University, the Salisbury University scholarship is the first of its kind for the company. Its experience with Perdue School interns first inspired Trinity's management to consider such a scholarship. SU students have gone "beyond the expectations I have for the internship program," said Chief Financial Officer Doug Potvin.

Other SU students, though not working directly for the company, also are having an impact. Trinity is partnering with management and marketing faculty Paula Morris' class, which is helping advise the company during its current name change process. The new name, which reflects a new global push, is scheduled to be unveiled in January.

"We want to give them real-experience, and at the same time we're hoping they can give us some good ideas, something we can use or combine with other ideas and make the new name better than it would have been without the students," Potvin said.

According to Jen Jackson, the SU student heading up the assignment, the task has been challenging but enjoyable: "Trinity wanted a group of students to research everything that is involved with a name change and what are some of the dos and don'ts. They also wanted help with some of the creative strategies and how to make the change known to other businesses. Working with Trinity has been a good experience. The project is a lot of work and takes a lot of time … but all the time and effort seems to be sincerely appreciated."

Additionally, the company employs a number of SU alumni. "Several professors, including Drs. Debbie Easterling and Gerry DiBartolo, worked to push me beyond what I thought I could do into what they knew I was capable of," said Trinity employee and Salisbury graduate Brandy McMullen, who credits the school for preparing her professionally.

With offices throughout the United States and Canada, Trinity is ranked one of the nation's 5,000 fastest-growing businesses by Business Inc. magazine. The News Journal rates Trinity as Delaware's No. 1 medium-sized business. It also earned the News Journal's 2007 Best in Business Community Service Award. The American Cancer Society recently recognized it as a 2007 "Fit and Friendly" company in an article published in the Wall Street Journal.

For more information call 410-543-6030 or visit the SU Web site at www.salisbury.edu.