SU Student Researchers Discuss Work During 'Posters on the Bay'
Wednesday February 23, 2022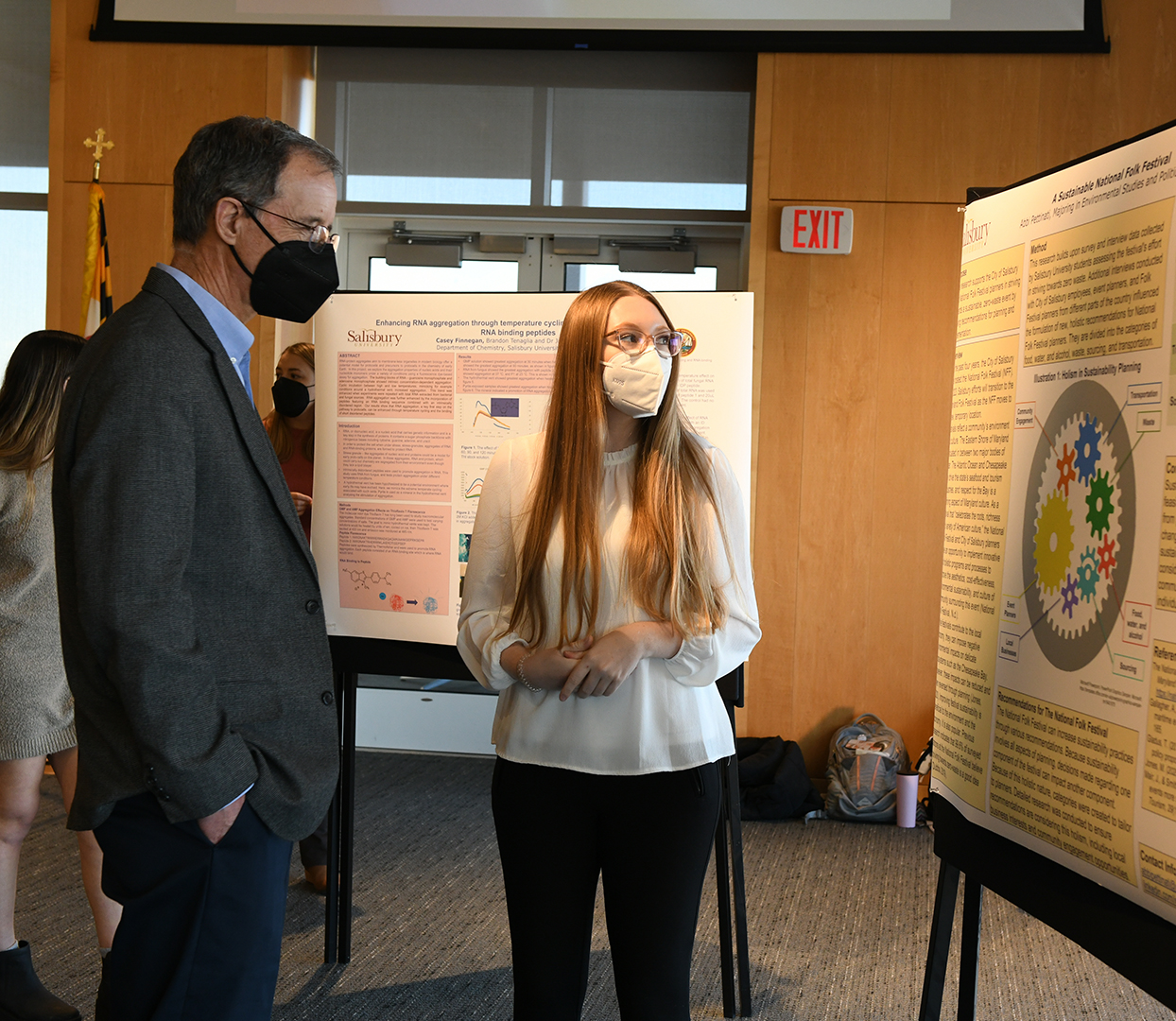 SALISBURY, MD---Salisbury's University's Office of Undergraduate Research and Creative Activity recently gave some 16 students the opportunity to showcase their recent research projects for Maryland legislators, SU and the greater Salisbury community during the sixth annual "Posters on the Bay" event.
Held in a hybrid fashion due to COVID-19 precautions, the event allowed the students to present their work through Zoom to online participants. They also were available in person to answer questions.
Projects covered a wide variety of social, health and economic issues. SU presenters and their topics included:
Josh Arinze of Gaithersburg, MD - "Realities in Mental Health for Latinx Sexual Minority Youth"
Matthew Bernor of Chevy Chase View, MD - "Piecing Germany into the European Puzzle: Is Germany the Hegemon of EU Climate Policy?"
Joseph Fernandez of Bethesda, MD - "Graph Clustering with Applications on COVID-19 Growth Data Across the United States"
Jake M. Goodman of Rockville, MD - "The Intersectionality of Environmental Conflict and Disability in Maryland, Other States and Abroad"
Wyatt Gibbs of Secretary, MD - "Facile Synthesis of Aqueous Reversibly Linked CdSe/ZnS, CuInS2/ZnS QD Xerogels for More Stable Solar Cell Device Construction"
Katelyn Hancock of Ocean Pines, MD "The Culper Ring: America's First Spy Ring"
Emma Kelly of Frankford, DE - "Impact of COVID-19 on Young Adults' Socioemotional Perspectives"
Madison MacDougall of Salisbury - "The Effects of Lavendustin-A on Peripheral Nerve Degeneration in Hyperglycemic Danio Rerio"
Connor Bean of Crownsville, MD- "Combinatorial Curve Neighborhoods for a Family of Odd Symplectic Partial Flags"
Allison Langlois of Arinze, MD - "Bioinformatic Analysis and Characterization of the Enzyme SE1966 - A Putative Nitroreductase"
Casey Finnegan of Brick Township, NJ - "Enhancing RNA Aggregation Through Temperature Cycling and Intrinsically Disordered RNA Binding Peptides"
Abbi Pettinati of Mt. Airy, MD - "A Sustainable Folk Festival"
Tieryn Gingerich Heishman of Greenwood, DE - "Incapacitated and/or Forcible Rape Experience Predicting College Women's Rape Victim Empathy"
Delaney Link of Bel Air, MD - "Exploration of Material Properties from Both Scientific and Artistic Perspectives"
Delany Midash of Cecilton, MD - "Sedimentological Properties of a Transitioning Fluvial System"
Mikayla Wiseman of North Platte, NE - "Pestilence, Plague and the Pied Piper: Living with Fairy Tales in the Post-Truth Pandemic World"
"Posters on the Bay showcases the depth and high quality of the research being conducted at SU, with a focus on the stellar mentorship students receive from faculty who are experts in their fields," said Rhyannon Bemis, OURCA director. "Student mentorship in research and creative activity is a hallmark of the SU experience. Seeing the accomplishments of our students, all future leaders in their fields, highlights the importance of funding for regional comprehensive universities."
The event normally is held at the Maryland State House, but was forced to shift due to the COVID-19 pandemic.
SU sponsors graduate and undergraduate student research projects throughout the year through various funding sources. Those interested in research opportunities may contact Bemis.
Learn more about how SU students and faculty make tomorrow theirs at the SU website.
SHARE