Thursday, May 18, 2017
Ward Museum Receives Osprey Nest Thanks to SU Green Fund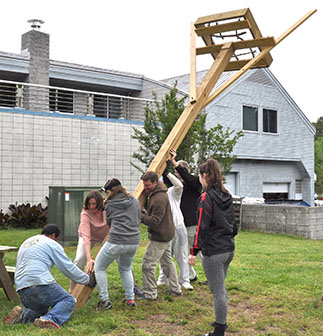 SALISBURY, MD---Salisbury University's Ward Museum of Wildfowl Art is home to some of the world's most exquisite carved birds.

Recently, a group of SU students set out to make it home to one of the inspirations for those carvings, installing an osprey nest at the facility on Schumaker Drive, near the museum's nature trails.

The $168 project was proposed by freshman environmental studies majors Allison McCarty of Silver Spring, MD and Sarah Tenner of Lothian, MD. It was paid for through student Green Fund sustainability fees. Each semester, individual students and student-faculty-staff teams are invited to submit environmental proposals for funding through the initiative.



For more information call 410-543-6030 or visit the SU website at www.salisbury.edu.