Tuesday, May 13, 2014
SU Legislative Interns Earn Buddy Hanna Memorial Award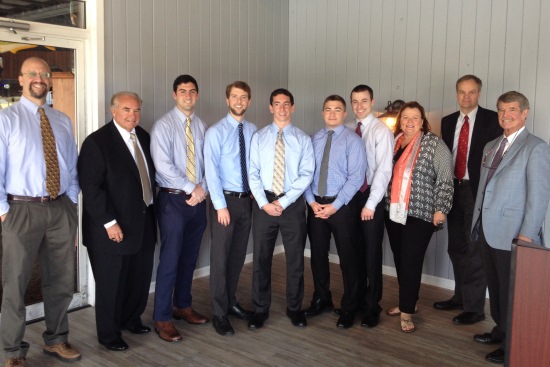 Salisbury, MD---Six Salisbury University students worked as legislative interns during the 2014 Maryland General Assembly, thanks in part to the Henry H. "Buddy" Hanna Memorial Award.

Established by Henry H. Hanna III and his wife, Dara, the scholarship is designed to help students develop their passion for government, politics and community affairs. It is named in honor of Hanna's father, a longtime Eastern Shore legislator.

The student interns are: senior Matthew Anderson a conflict analysis and dispute resolution major from Middletown, NJ, who worked for Delegate Norm Conway; senior Justin Barbierri, a history major from Pocomoke City, MD, who worked for Delegate Mike McDermott; senior Thomas DeSelms, a political science major from California, MD, who worked for the House Republican Caucus; senior Nicole Dougan, a communication arts major from Bishopville, MD, who interned for Senator Katherine Klausmeier; senior John Hanlon, a political science major from Brookeville, MD, who worked for Senator Allan Kittleman; and junior Brian Rollyson a political science major from Mount Airy, MD, who worked for Delegate Kelly Schulz.

The scholarship was established by a gift from the Hanna family to the SU Foundation, Inc., in 2007. They hoped it would help students from Salisbury and the Eastern Shore with travel or living expenses while they work in the state capital. SU juniors and seniors who are serving as legislative interns and have a minimum 3.0 GPA are eligible.

Pictured (above, from left) are Dr. Adam Hoffman of SU's Political Science Department; Frank Hanna; interns Hanlon, DeSelms, Anderson, Barbierri and Rollyson, SU President Janet Dudley-Eshbach, Fulton School Dean Maarten Pereboom; and Henry Hanna.

For more information call 410-543-6030 or visit the SU website at www.salisbury.edu.