Tuesday, April 17, 2012
University Galleries Showcases Work by Kim April 16-May 19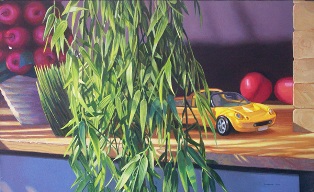 SALISBURY, MD---Salisbury University Galleries showcases the works of world-renowned painter and SU art faculty Jinchul Kim during the exhibit "Departures" April 16-May 19, in the Atrium Gallery of the Guerrieri University Center.

A reception is 5-7 p.m. Friday, April 27.

According to Pushcart Prize-winning poet Nancy Mitchell of SU's English Department, "Jinchul Kim's numinous paintings inspire in the viewer instinctive reverence for these sacred testimonials which bear witness to achingly vulnerable human privacies in which the deepest, most authentic moments of being are revealed.

"With absolute discipline, devotion and fidelity, Kim does not simply paint, but rather invokes, raises, and calls forth from the very fabric of the canvas every molecule until the primal, originating emotion is incarnate, and the painting, begotten, not made, transcends it materials, breathes and lives."

Born in South Korea, Kim has shown his work internationally at galleries in Korea, Japan, France, Spain and across the United States. In 2010, he won the Certificate of Excellence Award at the Portrait Society of America's 12th annual International Portrait Competition.

Filmmakers traveled to SU to capture Kim at work for the Smithsonian Institution's 2010 Folklife Festival, which focused on works by Asian Pacific Americans.

Kim won first place at a self-portraits exhibition held in 2002 at the Maryland Federation of Art in Annapolis. Other awards include 1986 Artist of the Year for Art Journal in Seoul, Korea. He received the Phyllis H. Mason Grant, awarded in 1995 by the Art Students League of New York. He also received an Individual Visual Artist Award in 2006 from the Maryland State Arts Council and is also a Visual Artist Grant recipient from the George Sugarman Foundation.

A graduate of King Se-Jong University in South Korea and the School of Visual Arts in New York City, he currently teaches 400 level painting and drawing classes at SU as head of the painting and drawing area. In 2008 he earned the University System of Maryland's highest faculty honor, the Regents Faculty Awards for Excellence in Teaching, as well as SU's Distinguished Faculty Award.

Gallery hours are 10 a.m.-7 p.m. Monday-Thursday, 10 a.m.-4 p.m. Friday-Saturday. The gallery is closed Sundays and holidays.

Admission is free and the public is invited. For more information, call 410-543-6030 or visit the University Galleries Web site at www.salisbury.edu/universitygalleries.