Thursday, December 15, 2011
Ocean City Painting Added to SU's 'Artists of the Eastern Shore' Collection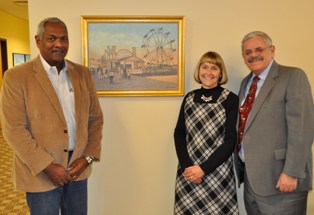 From left: Patrick Henry, Dr. Amy Stephens Meekins and Dr. Dennis Pataniczek.

SALISBURY, MD---Dr. Dennis Pataniczek, dean of the Samuel W. and Marilyn C. Seidel School of Education and Professional Studies at Salisbury University, recently accepted the fifth addition to the Artists of the Eastern Shore Collection established by Dr. Amy Stephens Meekins and family.

The collection is displayed in the Teacher Education and Technology Center and includes works by W. Robert Tolley, Beebe M. Winterbottom, Paul Lockhart, and Myrna C. McGrath. Artists of the Eastern Shore provides a legacy of artistic interpretations of life on Maryland's Eastern Shore. It features artists who live on the Shore and whose artwork highlights some element of regional life.

The fifth acquisition is an original oil painting titled Trimper's Luna Park – Ocean City, Maryland – circa 1925 by Berlin artist Patrick Henry. Trimper's Luna Park provides a nostalgic glimpse into the historic past of the Ocean City boardwalk. Through Henry's interpretive artistic expression, the viewer may envision the marvel and excitement of children as they approach Trimper's Luna Park, a memorable part of Ocean City's amusement history.

Henry was born and raised on the Eastern Shore, and enjoyed artistic pursuits throughout his childhood. Focusing on painting as a high school student, he embarked on a artistic journey that led him to become a high school art teacher and, later, to concentrate solely on his professional art career, exploring historic and symbolic images of the Eastern Shore.

He has exhibited throughout the mid-Atlantic, and his work a part of permanent collections such as those housed at the Reginald R. Lewis Museum of Maryland African-American History and Culture in Baltimore. From his mural commissioned by the Atlantic General Hospital in Berlin, MD, to his current work presented to the Artists of the Eastern Shore Collection, Henry is known for his eclectic visionary interpretations.

Most recently, he completed the "Amusement" collection, comprised of 27 pieces depicting some of Ocean City's most memorable amusement and entertainment features. In his latest endeavor, he is focused on the conceptual stage of landmark scenes in Chicago.

Henry's work may be seen at Baked Desserts in Berlin. Those interested in contacting Henry may call 443-880-4746 or e-mail henryfineart@gmail.com. His paintings and prints are available for direct purchase. Commissions also are accepted.

The Meekins' gift will be spread over the next several years, with an addition to the collection made each semester. Artists work with Meekins and Pataniczek to determine an artistic rendering that meets the goals of the collection and best exemplifies the work of the artist. Artists are paid an honorarium for their work, funded by the Meekins family.

For more information call 410-543-6030 or visit the SU Web site at www.salisbury.edu.