Celebrating Faculty and Staff Achievements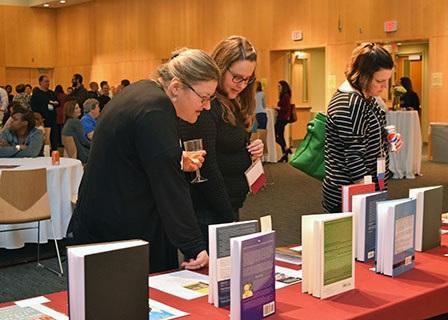 Salisbury University is well-known for the quality of its teaching, but that represents only one aspect, albeit the most important aspect, of the University's work.  Our faculty and staff also excel at scholarship and service.  In 2008, the SU Libraries (then known as Blackwell Library) began celebrating faculty publications at what became an annual event known as Pub Night.  In 2012, the Office of Graduate Studies and Research partnered with us to also honor faculty and staff who won grant funding for their activities.  Soon thereafter, we began also recognizing faculty and staff for their service beyond campus in the region, state, nation, and world and for the awards they garner.  In 2019, the Public Relations Office joined us to recognize faculty and staff for their contributions to the University's reputation through media-related activities.  The annual celebration, typically taking place on a late afternoon in February or March, has become a highlight of the campus calendar for faculty and staff.
Due to the COVID-19 pandemic, there will not be a Pub Night event for 2021. We look forward to welcoming everyone next year!