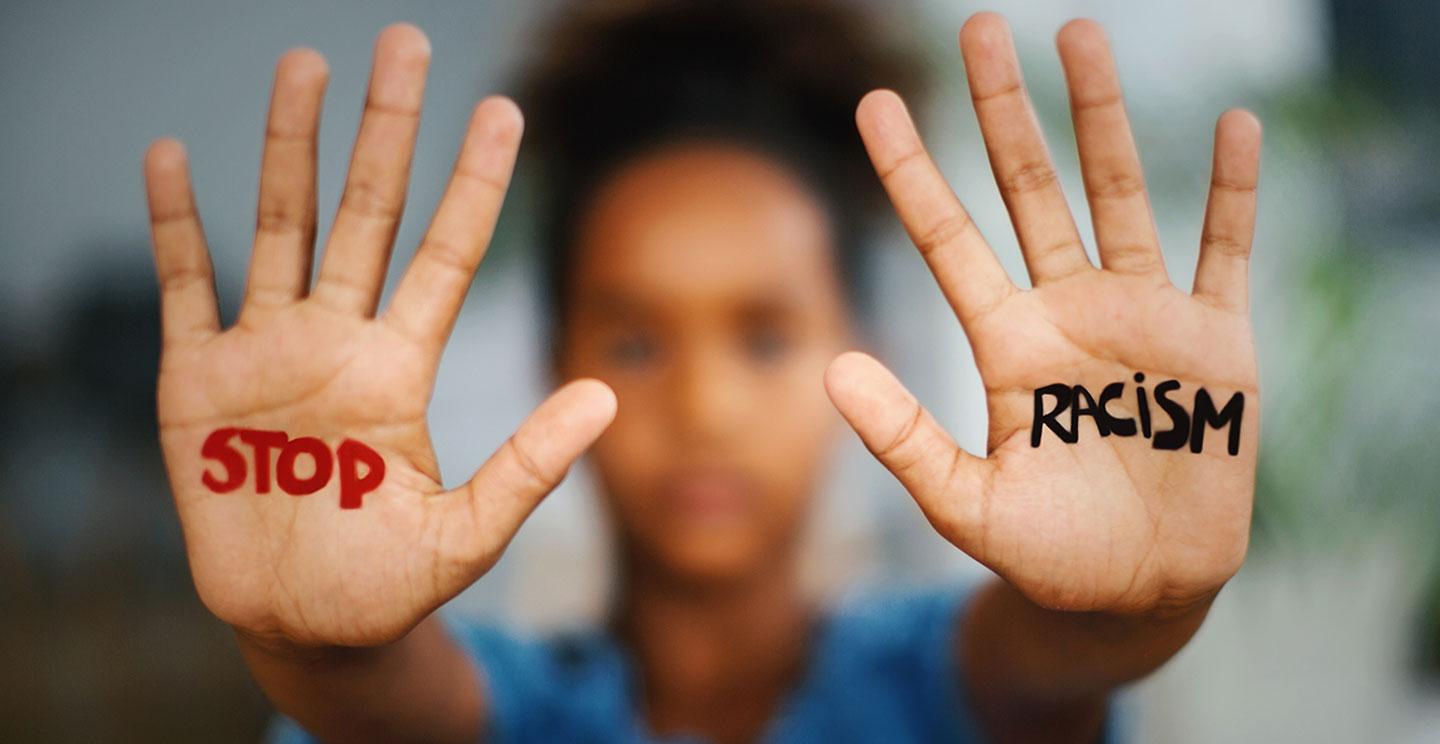 President's 21-Day Anti-Racism Challenge
As a follow-up to the SU Inaugural Anti-Racism Summit, the President's 21-Day Anti-Racism Challenge is designed to assist SU in continuing the commitment to exploring anti-racism as a means to help one another identify and confront the structural and institutional behavioral norms that perpetuate systemic racial inequality. Our goal is to assist our campus and community in increasing awareness, understanding and engagement toward anti-racism, with a focus on anti-Blackness and the experience of Black people in America. We recognize that we cannot capture all of the diverse experiences and opinions in the Black Community or the intersections of other identities.
The Racial Equity Challenge was conceptualized by racial justice scholar Dr. Eddie Moore Jr. and has inspired many across the country to adopt the model using the premise that it takes 21 days to develop a new habit.
The President's 21-Day Anti-Racism Challenge provides the opportunity for our community to move intentionally to complete a curriculum of 21 short assignments, including readings, videos and podcasts, grounded in a social justice framework. This initiative gives us the pathway to continue to build the capacity to understand and engage in difficult conversations that will move our campus and community to greater equity and inclusion.
Completing the 21-Day Anti-Racism Challenge
Review all materials from beginning to end.
Journal thoughts and observations; notice learning edges and points of discomfort; think about what the content is bringing up for you, your background, and your understanding.
Watch the corresponding webinar sessions for each challenge section.
Use weekend breaks for rest and reflection.
If you will be completing this challenge with a group, download "Facilitating Your Own 21-Day Anti-Racism Challenge (PDF)" to help guide your group learning experience.
Questions on the 21-Day Anti-Racism Challenge? Email odi@salisbury.edu with any questions regarding this educational program.
Section 1: How We Got Here

Welcome to Section 1 of the President's 21-Day Anti-Racism Challenge. We are excited that you are committed to joining our community efforts in learning about the multifaceted Black experience and what steps you can take to help dismantle racism and anti-Blackness.

A reckoning with our history of anti-Blackness erupted in the summer of 2020 when civil unrest erupted after the tragic killings of George Floyd Jr. and Breonna Taylor by police, and Ahmaud Arbery by neighborhood vigilantes. Black transgender women continue to disproportionately die violent deaths, and rarely are their killers brought to justice. We've witnessed racially biased 9-1-1 calls to report Black people and people of color for their audacity to exist in public spaces.

Anti-Blackness underpins many of the most prevalent issues impairing the Black community: the impact of COVID-19, police brutality and the overcriminalization of Black people, environmental injustices, loss of generational wealth, and barriers to quality health care, education and economic opportunity, among others.

Change is doing the work, engaging in difficult conversations, with our defenses down, and asking ourselves – how did we get here?

DAY 1

When one affirms that they are not racist, it does not absolve them from complicity in perpetuating racism. Dr. Ibram X. Kendi, esteemed professor and bestselling author, contends that "[there] is no neutrality in the racism struggle. The opposite of 'racist' isn't 'not racist.' It is 'anti-racist.'" In this interview for The Aspen Institute, Dr. Kendi discusses what it means to be an anti-racist.

DAY 2

We are well aware that racism adversely impacts people of color – but has anyone considered the impact of white supremacy on white people? In the video, "Racism has a Cost for Everyone," political commentator and strategist Heather C. McGhee shares the hidden cost of racism to our society.

We learned early on in the pandemic that communities of color are being ravaged by the novel coronavirus. African Americans face immense disparities across a broad range of categories, including economic. That history of disadvantage is making the current problems of COVID-19 even worse. Economics correspondent Paul Solman reports for PBS.

The National Equity Project, an organization focused on education reform, teaches us in "Don't Talk about Implicit Bias Without Talking about Structural Racism" that we cannot begin to dismantle the structural inequities in education without checking both our biases and the systemic barriers sustained by these biases.

DAY 3

What we're experiencing in America today – from social inequities and violence against Black people to our country's administration – is cause for a deeper and difficult questions around the cultivation of our current climate. In an MSNBC panel discussion, Dr. Eddie Glaude Jr., distinguished professor at Princeton University, attempts to answer host Nicole Wallace's question: What now?

Overcriminalization in the Black community has contributed to the disenfranchisement, scarcity of employment, economic hardship, housing insecurity, interruption to psychological well-being, wrongful incarceration and execution, and premature death of Black people in America. In a video presentation produced by C-SPAN, Dennis Childs, associate professor of African American literature at UC San Diego, discusses his book, Slaves of the State: Black Incarceration from the Chain Gang to the Penitentiary, which examines how the 13th Amendment succeeds in perpetuating modern day slavery.

DAY 4

We know race is a social construct, created to justify the power and privilege that is "whiteness" over those deemed to be "not white." It is also well documented in American history how European immigrants, from varying cultures, have gone from being marginalized to achieving "white status," while Black people are still striving to be equal. How do we begin to break through the ills of racism? In the video produced by Harvard Law with Bryan Stevenson, lawyer and founder of the Equal Justice Initiative, Stevenson speaks to our country's need to talk about racism.

DAY 5

The media continues to report on the protests for Black lives rippling throughout the country, with some news sources calling the Black Lives Matter movement the biggest movement in our nation's history. While public outcries in solidarity with the Black community are helpful in elevating these dire issues, support does not stop at protests and social media posts. The video link will give some perspective on how to be an active ally of the black community after the protests have ended.

As we reflect back on everything we've read, watched or listened to during this first week of the 21-day challenge, we come to understand from the research and data that the effects of anti-Black racism are real and deeply devastating. Despite it all, why is it still so hard for white people to talk about race? Dr. Robin DiAngelo seeks to explain this phenomenon in her article "White Fragility."

 

Section 2: Intersections of Power, Language, and Visibility

During the summer of 2020, much like the Sixties, America was forced to take a hard look at the reality of the effect of its failings to afford "liberty and justice for all". On January 6, 2021 we were faced with the consequences of not speaking against erroneous narratives and allowing them to spread. When we look critically at the policies that have governed this land over the last 244 years, and acknowledge that these policies are grounded in white supremacy, it becomes clear that America's current state is by design.

In Section 2 we explore how power, language, and visibility (or lack thereof) converge to disenfranchise Black people.

DAY 6

For Black people in America, their unalienable rights have never been an entitlement afforded by virtue of being human; their mere existence in this country has always been negotiated. In the video "We the People," Native American activist, author and public speaker Mark Charles breaks down what he asserts to be "the three most misunderstood words in US history" and challenges us to consider their inherent meaning.

As Black Americans began to recover from the effects of slavery, their progress was met with resistance from white Americans who felt threatened by a perceived loss of power and economic gain. "A Timeline of Racial Progress in the US" presents a visual account of some of our nation's most pivotal steps forward to advance racial justice and the devastating steps back, stalling the betterment and contributions of Black people in America.

READ and EXPLORE: A Timeline of Racial Progress in the US (July 8, 2020 | 10 min)

DAY 7

When we are able to see and acknowledge a problem we can then take steps toward addressing it. But what if there is no way for others to begin to understand the challenges you are facing because no word exists for what you are experiencing? In "The Urgency of Intersectionality," Kimberlé Crenshaw, professor of law at UCLA and Columbia University, introduces us to the term "intersectionality" and how applying this lens makes the invisible, visible.

DAY 8

From the Black Lives Matter protests we're beginning to see the emergence of Black Trans Lives Matter--an effort to bring the unique issues of Black transgender people to the national conversation about the treatment of Black people in America. Black trans women, especially, continue to lobby to be seen. In Time Magazine's, "Two Black Trans Women Were Killed in the U.S.," we dive into the troubling plight Black trans women endure.

DAY 9

Nearly half of all people killed in an act of police brutality, have a disability. Add to this the bias that Black people are seen as more criminal, and the risk of a violent altercation increases. In "Police Violence Against Black Disabled People Can't Be Ignored Anymore," we learn about the experiences of our Black community members with disabilities and why some encounters with law enforcement become fatal.

DAY 10

During this TedMED talk, "How Racism Makes Us Sick," David R. Williams recounts his dismay with the mortality rate of Black people compared to white people in America, and has made it his life's work "to understand why race matters profoundly for health." After being told that racism in health cannot be measured, Williams developed a solution for measuring how racism impacts the health of Black people and shares what institutions in the U.S. are doing to improve health outcomes and access to quality care.

Section 3: Stereotypes, Bias, and Education

The last few years the conversation around implicit bias has expanded and been a prominent discussion around racism. From the educational system to discussions around the experiences of Black people with the police, implicit bias has been linked to inequitable treatment of People of Color, along with the intersection of other identities. People in America must examine what they have learned about themselves and others and how that has informed their thinking and interactions with others. This must be examined to forge a path forward that removes the bias, stereotypes and inequitable outcomes.

In Section 3 we explore stereotypes and bias.

DAY 11

It is important to reflect on our daily interactions to have a better understanding of how things around us impact us. Answer the questions and complete the matrix below. Listen to the powerful Interview with acclaimed musician, author, educator and race reconciliatory, Daryl Davis. A chance encounter with members of the Ku Klux Klan led musician Daryl Davis on a quest to determine the source of the hate. His unorthodox, yet simple approach, has wielded surprising results and just might be the solution for all racial discourse.

Reflect on your perception of reality based on your racial identity. Some questions to consider:

What are we taught through media, the education system, and other sources?
What do we believe to be "facts" as a result of not being as self-aware or aware of our surroundings?
Now... go out in the world and change up what you notice. Here's some of what you might look for:

Who is and is not represented in ads?
Who are your ten closest friends? What is the racial mix in this group?
As you move through the day, what's the racial composition of the people around you? On your commute? At the coffee shop you go to? At the gym? At your workplace? At the show you go on the weekend?
What percentage of the day are you able to be with people of your own racial identity?
Notice how much of your day you are speaking about racism. Who are you engaging with on these issues? Who are you not? Why do you think this is?

DAY 12

For Black people in America, their individual stories and experiences are mostly overlooked and they are reduced to a single story, single experience and interacted with based on perceived negative group traits. This is due to historical negative stereotypes that have been perpetuated in various mediums. Novelist Chimamanda Adichie tells the story of how she found her authentic cultural voice — and warns that if we hear only a single story about another person, we risk a critical misunderstanding. Listen to Dr. Claude Steele, Professor at Stanford University and Psychologist talk about how stereotypes impact people.

Complete the Social Identity Matrix

DAY 13

What does peanut butter and jelly have to do with our brains and bias? Who Me? Biased? is a selection of short films about how our brain works and how that impacts us in ways that we may not realize.

DAY 14

After learning about bias, the goal is to overcome the bias. That starts with understanding how your unconscious thinking is informing your behavior in ways and resulting in outcomes that you would not engage in consciously. The links below will help you to understand your personal implicit bias better.

DAY 15

As we think about changing the stereotypes, bias and the dangers of limited experience with diverse people, especially People of Color and Black People, we must turn to our educational system and discuss the need to intentionally educate our students around multiculturalism and social justice. Listen to the podcast where Dr. Sheldon Eakins talks with an educator about the reasons white students need this kind of education and what, specifically, they can be taught.

Section 4: Allying, Actions and Accountability

"There must be a paradigm, a practical model for social change that includes an understanding of ways to transform consciousness that are linked to efforts to transform structures."
Bell Hooks

As we learned in Section 1 of the Challenge, to support deep and lasting change, one must not simply be a "non-racist", but an anti-racist. To be an anti-racist is being confronted with various forms of racism--individual, institutional, structural--and choosing to speak out against these injustices rather than choosing to remain silent.

DAY 16

In June 2020, the Center for Organizational Responsibility and Advancement (CORA) hosted a special webinar presentation in response to the public statements released by academic institutions regarding the killings of George Floyd, Jr., Breonna Taylor, Ahmaud Arbery, and Tony McDade. Their webinar, "Addressing Anti-Blackness on Campus: Implications for Educators and Institutions," explains how public statements become futile unless accompanied by meaningful action to prevent more harm to Black community members. A panel of experts came together to discuss viable solutions for confronting anti-Blackness in education.

DAY 17

Our Asian and Asian American communities are experiencing their own unique plight with "otherness", xenophobia, and anti-Asian racism in America. With the release of the George Floyd, Jr. video, many from the Asian community have come to express great disappointment and anger with the Asian American officer who stood by, failing to intervene. In "The George Floyd Protests: A Guide to Practicing Anti-Racism as an Asian Ally," we learn how Asians and Asian Americans can effectively support the Black community with their allyship.

DAY 18

We've seen the headlines; some celebrity or notable public figure gets "dragged" or is threatened to be "canceled" for falling short of expectations or an offense committed long ago. The video talks about accountability and what could be possible obstacles to achieving accountability; perhaps the best way is not to cancel but to talk and listen. We must seek strategies to yield long-term impact instead of the short-term gain that comes from seeing the fall of individuals, who are often just a symptom of a much deeper, systemic issue.

DAY 19 (Reflection question and activity below)

Having allies is especially important for those who are traditionally underrepresented and often marginalized in the workplace. With the current national racial reckoning that started last summer, many Black people are navigating deep emotional waters right now, with many feeling especially vulnerable and unsafe amid social and mainstream media stories of violence against Black people. Best intentions are assumed of allies, and most understand concern comes from a place of care and desire to help their Black friends and colleagues. But a simple, how are you doing, could rouse more pain than support. In "Some Do's and Don'ts for White People Who Want to Discuss Racism at Work" and "Your Black Colleagues May Look Like They're Okay--Chances Are They're Not," we discuss how to effectively engage with your Black friends or colleagues during these sensitive times.

DAY 20

In this Harvard Business Review article, "Academia Isn't a Safe Haven for Conversations About Race," we become familiar with terms like "invisible labor", "inclusion tax" and "racism-evasive rhetoric" to understand how our deflection from problematic behavior perpetuates anti-Blackness and our inability to engage in meaningful dialogue on race and racism.

DAY 21

"If you are doing your work without people with the lived experience, then my question to you is how are you accountable and how are you effective of being part of the movement?"
-Mama Lila Cabbil, Activist, Author, and Water Warrior

Thank you for participating in the President's 21-Day Anti-Racism Challenge. We must continue to challenge ourselves to do more, to increase our awareness of injustice, and to actively step up to build equity in our networks and communities. This Challenge has offered tools and resources to advance anti-racism, anti-blackness and racial equity. Where you put your time and effort in this work is up to you. As you know, it does not—and cannot—stop here. While this Challenge has helped to develop a deeper understanding of race, equity, and our collective role in improving our community, what we each choose to do next will define our success.

Change begins with each individual, and grows with intention and activism through networks, organizations, practices, and policies that advocate for inclusion and equity for all. Listening matters. Representation matters. Actions matter.

We are in this together, and together we can make a difference. What do you plan to do next? Please continue this journey and reflect, engage in continued learning, become an Ally and ACT.