Thursday, August 21, 2014
Zimmerman Receives 2014 SU Alumni Scholarship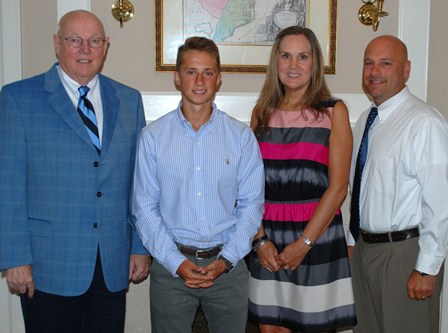 Pictured from left: Doug Ashby, SU Alumni Scholarship Selection Committee member; Matthew Zimmerman; Cindy Phillips, SU Alumni Association President; and Jayme Block, SU director of alumni relations and gift development.

SALISBURY, MD---Matthew Zimmerman, son of Paul and Barri Zimmerman of Salisbury, is the recipient of the Salisbury University Alumni Scholarship. The $1,000-per-semester award is presented annually by the SU Alumni Association to an incoming student, with preference given to children of alumni (however, the scholarship is not restricted to such students). Both of Zimmerman's parents are SU alumni.

Zimmerman plans to major in biology. A 2014 graduate of Parkside High School, he was a member of the National Honor Society, French National Honor Society, Mu Alpha Theta National Honor Society in Mathematics, Red Cross Club, Student Government Association and boys varsity soccer team.

For more information call 410-543-6030 or visit the SU website at www.salisbury.edu.