Monday, August 27, 2007
Works of Graphic Designer John Foster on Display September 3-27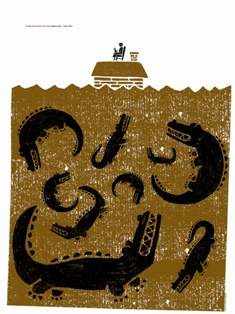 SALISBURY, MD---Graphic design artist John Foster's work is fast-paced and high-profile proof that the right mindset means everything.
From international corporate clients to more personal lines of work, Foster demonstrates his ability to balance the two worlds during his lecture on the month-long exhibit "How to Stay Sane (in Graphic Design), The Works of John Foster," September 19 at 2 p.m., reception following, in the Atrium Gallery of the Guerrieri University Center at Salisbury University. The exhibit is September 3-27.
After leaving his own business and a semi-professional soccer career, Foster found himself overseeing the design and production of hundreds of projects for the U.S. Conference of Mayors' in-house design studio, which he established. As a result, he soon became increasingly aware of the inner workings behind public policy and partnering clients and political issues.
Foster is now the creative vice president at the Alexandria, VA-based fuszion. His clients have included Coca-Cola, ESPN, A&E, Warner Bros., MGM, Chronicle Books, America Online, Hilton, FX, National Geographic and The National Zoo.
His work has been featured in numerous books and magazines including Communication Arts, Print, Novum, HOW, Step 100 and others. Additionally, his work has been displayed in galleries around the world and was recently included in the Smithsonian Museum of Design's "Graphic Noise" exhibit.
A long time supporter of design education, Foster completed a three-year term as education chair for the Art Directors Club of Metropolitan. He has coordinated numerous events, including the regional student showcase.
Foster also finds time to write and is the author of New Masters of Poster Design, for Rockport Publishers, as well as Maximum Page Design for HOW Design Books.
Foster is the recipient of a gold medal from the Art Directors Club of Metropolitan Washington as well as a Best of Show Award from the ADDYs. He received a B.F.A. at Shepherd College, WV.
Sponsored by University Galleries, admission is free and the public is invited. Gallery hours are Tuesday-Friday, 10 a.m.-4 p.m., closed Mondays, weekends and holidays. For more information call 410-543-6271.