Friday, February 16, 2007
Winter Semester Courses Take SU Students Around the World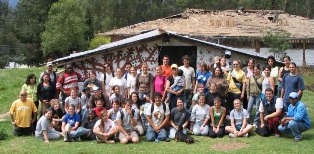 SU students traveled to Ecuador during winter break

SALISBURY, MD---Some Salisbury University students spent their winter break studying in the Andes Mountains of Ecuador, while others explored coral reefs in Honduras. A few gained an appreciation for the philosophy of yoga in India and Perdue School of Business students experienced international corporate culture in Germany.

Altogether, more than 70 students traveled abroad last month through one of SU's four faculty-led January Intersession Programs. "Each of the trips is exciting in its own right," said Dr. Brian Stiegler, interim director of the Center for International Education. "It offers students the unique opportunity to become more worldly in their thinking and to gain a different understanding of their own country."

Sophomore Amanda Miller of Fruitland is one of more than 30 students who traveled to Ecuador as part of SU's longest-running international program to study the language and culture of Latin America. Highlights of her first study abroad experience included hiking in Cajas National Park and exploring the old town of Saraguro. "I thought it would be good to have an experience like this to compliment my elementary education degree," said Miller, who also volunteered at an orphanage and took a Spanish language course at the Center for Interamerican Studies during the month-long excursion.

For SU's newest study abroad course, Dr. Joerg Tuske of the Philosophy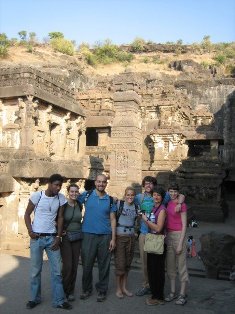 Others studied abroad in India

Department led students to the University of Pune in India where they took classes on yoga, the Hindi language and yoga philosophy, for four weeks. "They really got to see yoga performed in its proper setting and original context," Tuske said. "Here yoga is often seen as gymnastics with an attitude, but there is has a philosophy behind it. Teachers are fully committed to the yoga lifestyle." During weekend excursions, students also explored historical and cultural sites, including the ancient ruins of the city of Hampi. "India is a difficult and exhausting country to travel in and the students held up well," said Tuske, who has traveled and studied there several times.

For senior Alanna Gomez of Chesapeake City, MD, exciting aspects of Perdue's Winter Term in Germany included witnessing crash test simulations at the headquarters of Volkswagen and seeing highly advanced technology in use at Deutsche Telekom (T-Mobile). Sponsored in cooperation with Technical University Berlin, the program focuses on global business practices in Germany and the European Union. It provides a first-hand look at the operation of multinational corporations and allows students to discuss international commerce with German students and company executives. "Study abroad is a great opportunity that not everyone takes advantage of, but they should," Gomez said. "You get to see the world and you are earning your degree are the same time."

The seven scuba divers and five snorkelers who participated in the January trip to Honduras witnessed one of the planet's most diverse ecosystems – the coral reef. Lobsters, moray eels, reef fish and sea cucumbers were just some of the organisms students observed. They also studied and swam with dolphins during the course, sponsored in conjunction with the Roatan Institute of Marine Science. "It's really hands-on and they learn about these animals just by swimming in their habitat," said Dr. Ann Barse of the Biology Department, who led the excursion. "You can't replace that in a classroom or in a laboratory on campus."

For more information about these or other study abroad programs call 410-334-3495 or visit Salisbury University's Center for International Education Web site at http://www.salisbury.edu/intled/.