Monday, January 6, 2014
Wind Chill Advisory Issued for Wicomico, Surrounding Areas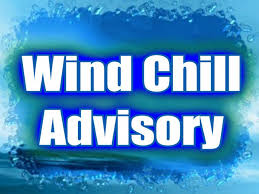 SALISBURY, MD---The National Weather Service (NWS) has issued a wind chill advisory for Wicomico and surrounding counties from 1 a.m.-noon Tuesday, January 7.
Winds between 15 and 25 mph are predicted during that time, with gusts up to 30 mph. Wind chill is forecasted to reach 5 to 10 degrees below zero due to already low temperatures.
The NWS warned that the cold wind may be a danger to exposed skin, leading to frostbite and hypothermia. There is also a possibility that water pipes may freeze due to the wind chill.
The Wicomico County Department of Emergency Services has issued the following safety tips:
• Wear several layers of loose fitting, lightweight, warm clothing rather than one layer of heavy clothing. Layering clothes helps keep the body warmer than a single heavy coat. The outer garments should be tightly woven and water repellent.
• Wear mittens or gloves. Mittens are warmer than gloves because fingers maintain more warmth when they touch each other.
• Wear a hat (preferably one that covers the ears). A hat will prevent the loss of body heat. Half of body heat loss is from the head.
• The mouth should be covered a scarf to protect the lungs.
• Wear waterproof, insulated boots to keep feet warm and dry and to maintain footing in ice and snow.
• Keep dry. Change wet clothing frequently to prevent a loss of body heat. Wet clothing loses all of its insulating value and transmits heat rapidly.
• Walk carefully on snowy, icy sidewalks. Slips and falls occur frequently in winter weather, resulting in painful and sometimes disabling injury.
• Watch for signs of frostbite. These include loss of feeling and white or pale appearance in extremities such as fingers, toes, ear lobes and the tip of the nose.
• If symptoms are detected, get medical help immediately.
• Watch for signs of hypothermia. These include uncontrollable shivering, memory loss, disorientation, incoherence, slurred speech, drowsiness and apparent exhaustion.
If symptoms of hypothermia are detected:
o Get the victim to a warm location.
o Remove wet clothing.
o Put the person in dry clothing and wrap their entire body in a blanket.
o Warm the center of the body first.
o Give warm, non-alcoholic or non-caffeinated beverages if the victim is conscious.
o Get medical help as soon as possible.