Friday, April 13, 2012
Wicomico TAD Students Visit SU Theatre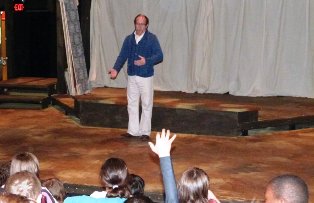 Dr. T. Paul Pfeiffer, artistic director of SU's Bobbi Biron Theatre Program, speaks to Wicomico County TAD students.

SALISBURY, MD---Elementary school students in Wicomico County are not only learning their ABCs — they're also learning their "to be or not to be"s.

Salisbury University's Bobbi Biron Theatre Program recently hosted some 260 students from the Wicomico County Public School System's "Thinking and Doing" (TAD) program for gifted and talented students. Dr. T. Paul Pfeiffer, artistic director of SU's Theatre and Dance Department, has been hosting workshops and school visits through the TAD program for more than two decades.

"I am always thrilled, but never surprised, that these very young students latch on to Shakespeare's words and truly 'get it,'" said Pfeiffer. "This is a credit to their teachers, of course, but a very great witness to the power and universality of Shakepare's writing. Who else could do that?"

In addition to touring SU's Black Box Theatre in Fulton Hall — complete with a behind-the-scenes look at the costuming and scenery shops with technical director Tom Anderson and costume designer Leslie Yarmo — the elementary students participated in a series of "Acting Shakespeare" workshops led by SU students. They then performed their own shortened renditions of four Shakespeare plays. The event was the culmination of the classes' study of the famed Renaissance playwright.

"The children thoroughly enjoyed having the opportunity to see the costume shop, dressing room area and scenery shop and have now realized that there are many ways to be involved in the theatre in addition to performing," said Amanda Markos, TAD teacher. "They especially loved the fact that 'older kids' took the time to talk with them and thought it was 'beyond awesome' that they stayed to watch their performances."

Students attending the tour and workshops were from North Salisbury, Pemberton, Pinehurst, Glen Avenue and Prince Street elementary schools and Fruitland Intermediate School.

For more information call 410-543-6030 or visit the SU Web site at www.salisbury.edu.