Thursday, August 16, 2012
Wicomico Hall Earns LEED Gold Certification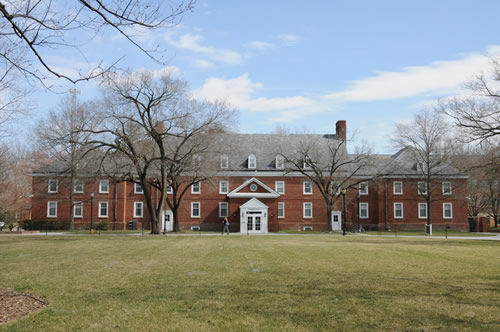 SALISBURY, MD---Salisbury University's Wicomico Hall is the latest building on campus to earn Leadership in Energy and Environmental Design (LEED) certification from the U.S. Green Building Council (USGBC).
The USGBC is the nation's leading organization supporting environmentally responsible building. Wicomico earned Gold certification, one of the top two levels available, following the council's inspection and analysis.
The environmentally friendly residence hall is the sixth LEED-certified building on campus. Others include the Teacher Education and Technology Center, Perdue Hall, Sea Gull Square, and Pocomoke and Manokin residence halls.
In renovating the building, Grim + Parker Architects of Calverton, MD, mechanical/electrical engineer Gipe Associates of Easton, MD, and general contractor Nason Construction of Salisbury incorporated some 41 guidelines established by the USGBC for environmental quality to achieve the Gold certification. They ranged from maintaining a majority of the existing structure to reducing water consumption by more than 42 percent with updated plumbing fixtures.
In addition, the building uses 27.1 percent less energy than similar buildings its size. Some 59 percent of the hall's outdoor surfaces are reflective, helping to reduce heat-island effect. More than 15.8 percent of building materials were sourced and manufactured within 500 miles of the construction site, reducing delivery-related fuel consumption and carbon emissions, and 22 percent were made from recycled material.
Some 75 percent of construction waste was diverted from landfills and incinerators, and 67 percent of the wood used in the building was from Forest Stewardship Council-certified products.
The LEED Gold certification continues an era of construction sustainability at Salisbury, an extension of the American College and University Presidents Climate Commitment pledge signed by SU President Janet Dudley-Eshbach in 2007.
The University also hopes to achieve LEED certification for its renovated Nanticoke Residence Hall, as well as its Bateman Street Building (formerly Noland).
For more information call 410-543-6030 or visit the SU Web site at www.salisbury.edu.