Wednesday, September 23, 2015
Wicomico DART Students Use SU Simulation Center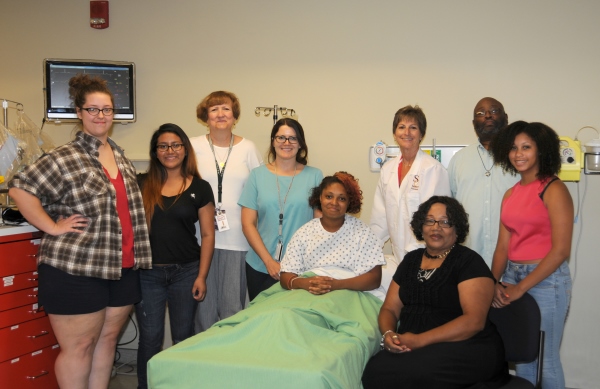 SALISBURY, MD---Inside Salisbury University's Richard A. Henson Medical Simulation Center, a camera rolled as news about a teenager's drug overdose was shared with family and friends gathered around her hospital bed.
Luckily, the participants were all acting.
The Wicomico County Health Department's Drug Action Response Team (DART), a drug-free youth coalition, was using SU's Sim Center to create the video to raise awareness about drug abuse and prevention. The scene was scripted and filmed by students from Wicomico High School and Wor-Wic Community College.
"We want our Simulation Center to be used by community partners for worthwhile endeavors like this," said Dr. Lisa Seldomridge of SU's Nursing Department.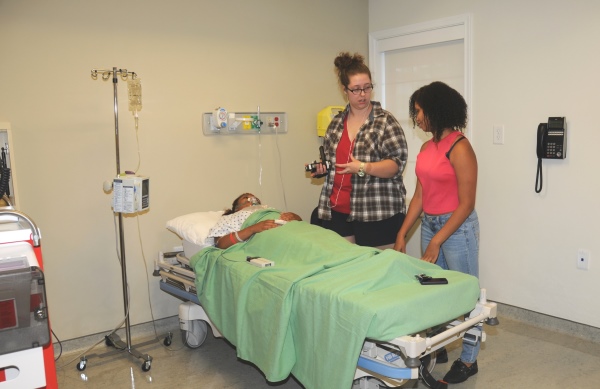 "The generosity of allowing DART to use the facilities for the filming of a video and the experience provided by the staff at the Henson Medical Simulation Center will be remembered," said Cynthia Shifler, the health department's alcohol, tobacco and other drug prevention coordinator. "All of us were impressed with the cutting-edge equipment as well as the learning opportunities available to students and community members."

The Medical Simulation Center opened in 2011, with a $1 million gift from the Richard A. Henson Foundation, Inc. It features four specialized labs, and computerized life-like mannequins that replicate demanding clinical situations. In addition to SU health professions students, the Sim Center has provided educational sessions for outside groups including Wicomico County school nurses, Bay Shore Services and Peninsula Regional Medical Center.

Pictured, from left, are DART Students Rebecca Boldt and Dariana Ortiz; Shifler; Deanna Schloemer, SU nursing graduate assistant; DART student Ericka Matthews; Seldomridge; Carol Fenner and Brian Polk of the Wicomico County Health Department; and DART student Tishina Matthews. Also pictured, from left, are Ericka Matthews, Rebecca Boldt and Tishina Matthews.

For more information call 410-543-6030 or visit the SU website at www.salisbury.edu.