Tuesday, October 26, 2010
White House Honors Paula Morris for Lifetime Service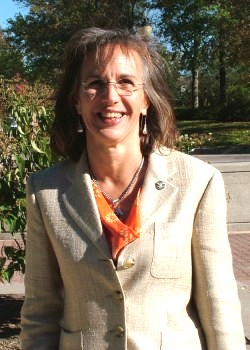 SALISBURY, MD---The White House has honored a Salisbury University marketing professor with the President's Call to Service Award for lifetime achievement.
Paula Morris was recognized for dedicating more than 4,000 hours of volunteer service to community programs for youth. Salisbury's Promise: The Alliance for Youth nominated her for this national award.
"I am so fortunate to have a family that enables me to help others and an employer that encourages my outreach work," Morris said. "Teaching at Salisbury University affords me time in the summers to work with young people and to help make a positive impact on the community. I'm blessed to be able to give back."
From reluctant learners and potential high school dropouts, to girl scouts and future leaders of tomorrow, Morris works with a wide range of youth in the region.
She was recognized in part for her work with Kids of Honor®—an award-winning non-profit she founded a decade ago. Dedicated to keeping participants engaged in school and ensuring they graduate from high school, the organization has a collaborative and effective model with all participants graduating on time or ahead of schedule.
Since its inception in 2006, Morris has also been involved with the Youth Leadership Academy at SU, a summer program she describes as "leadership training by youth for youth…with fun mixed in, of course."
"As founder of Kids of Honor, Paula serves on the Salisbury's Promise board and has been instrumental in working with young people to design and implement the Youth Leadership Academy," said Dr. George Whitehead, board chair. "Kids of Honor, in particular, embodies the five promises: caring adults, safe places, healthy starts, effective education and opportunities to help others. We are pleased that she has received this lifetime service award."

Bestowed during SU's celebration of National Business Women's Week, the White House award was presented to Morris by Dr. Diane Allen, SU provost and senior vice president of academic affairs. It included a citation signed by President Barack Obama.

Designed to thank Americans who inspire others to engage in volunteer service, the award was not the first to recognize Morris' commitment to the Salisbury region.

In 2006, she earned the National Points of Light Award for creating change and helping to meet critical needs in her community. Two years later, the Baltimore-based Daily Record named her one of Maryland's Top 100 Women for demonstrating professional accomplishment and making an impact through community service and mentoring. Morris also has been recognized with outstanding volunteer and troop leader awards from the Chesapeake Bay Girl Scout Council.

Morris earned an M.B.A. from The George Washington University and a B.S. in business administration from East Carolina University. Since 1997, she has taught marketing, promotions, consumer behavior and sales at SU.

For more information call 410-543-6030 or visit the SU Web site at www.salisbury.edu.