Tuesday, May 19, 2015
Welsh Collection Continues in SU Libraries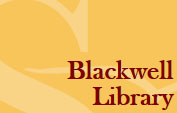 SALISBURY, MD---The legacy of Dr. James Welsh, late Salisbury University professor emeritus of English, continues on campus through the James M. Welsh Film Studies Collection in the SU Libraries.

Welsh retired from SU in 2004 after teaching film studies for three decades. During that time, he co-founded the University's international journal Literature/Film Quarterly — now more than 40 years old — and wrote numerous books on film, established an international film series and took many students on their first travel experiences abroad.



Following his death in 2013, his wife, Anne, offered his vast collection of film-related books to the SU Libraries.

"Since film studies remains an important discipline at SU and we could never have afforded to buy such a collection, we gratefully accepted her offer," said Dr. Beatriz Hardy, dean of libraries and instructional resources.

Kathryn Kalmanson, SU librarian emeritus, and her husband, Arnold, selected some 1,557 volumes to be added to the SU collection from the Welsh library. Complementing a collection of more than 2,400 film press kits and related journals Welsh donated to the University upon his retirement, each book will include a bookplate noting it is part of the "James M. Welsh Film Studies Collection."

"Jim felt a great loyalty to SU after nearly 35 years teaching there," said Anne. "The press book collection, the periodicals and his books have found the home he wanted."

Having the books available for reference at the library, which is also open to off-campus researchers, also fulfills her husband's wishes that they be available for use by scholars beyond the SU community, she said.

Currently available at Blackwell Library, the materials will move to the new Patricia R. Guerrieri Academic Commons in time for that facility's opening in fall 2016.

"Thanks to Jim and Anne Welsh, the SU Libraries have a virtually unparalleled collection of materials for film studies," Hardy said. "We owe them a tremendous debt of gratitude for their generosity."

For more information call 410-543-6030 or visit the SU website at www.salisbury.edu.