Thursday, June 16, 2011
'Washingtonian' Honors SU Partner Newton Marasco Foundation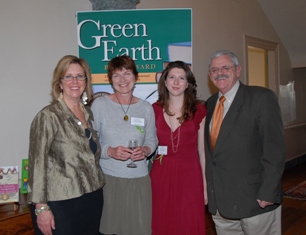 Pictured, from left, at the 2011 Green Earth Book Awards reception: Amy Marasco Newton; authors Elin Kelsey and Abby McDonald, and Dr. Dennis Pataniczek, dean of the Samuel W. and Marilyn C. Seidel School of Education and Professional Studies.

SALISBURY, MD---Newton Marasco Foundation (NMF) founder Amy Marasco Newton recently was honored by Washingtonian magazine for her sustainability efforts during the publication's annual Green Awards presentation.

Salisbury University is an NMF Sustainable Corporate Partner, serving as home to the organization's annual Green Earth Book Awards. The prize is the nation's first to honor environmental stewardship in literature for children and young adults.

Green Award winners are featured in the May issue of Washingtonian. "We honor these recipients for protecting our environment and teaching others the importance of eco-friendly living," said article author Leslie Milk. The magazine highlighted NMF's work with students; the 10-acre Chapman DeMary Trail in Purcellville, VA; and donations of Green Earth Book Award-winning books to area schools.

Newton credits the foundation's board members, staff, sponsors and volunteers for making its environmental youth programs a reality.

"This award recognizes NMF's efforts over the last seven years in teaching thousands of kids about environmental stewardship, reclaiming school and trail habitats, offering scholarships and donating thousands of environmental books to schools across the nation," she said.

For more information call 410-543-6030 or visit the SU Web site at www.salisbury.edu.