Friday, February 22, 2008
Warren Art on Display for First Time in 73 Years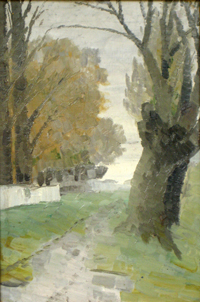 SALISBURY, MD---Frank Algernon Warren's dynamic and provocative paintings will be exhibited publicly for the first time in 73 years.
Warren (1865-1935) last exhibited his work at the National Academy of Design in New York City, just before his death in 1935. After a train accident that took his life, his family preserved his work in the family home. His heirs recently opened the collection and will exhibit his works at the Atrium Gallery of Salisbury University's Guerrieri University Center from April 19-May 28. A reception is 5-7 p.m. Saturday, April 19.
Warren, who was listed in Who's Who in American Art throughout the 1920s, was a graduate of the Philadelphia School of Design and the Academy of Fine Arts. His paintings have been exhibited in galleries in Baltimore; Washington, D.C.; New York; Philadelphia and Pittsburgh. His murals are in public and private buildings in Philadelphia, Albany, San Diego and Montreal.
During his lifetime he traveled extensively throughout the United States and Central America. Warren's subject matter principally falls into four categories: industrial scenes of Pittsburgh, figure paintings, rural scenes of Maryland, and western and southwestern landscapes. Often using a palette knife instead of paintbrushes, and he became noted for his striking use of heavy paint and of intense color.
Born in Dutchess County, NY, Warren married Mary Leach in 1889 and settled in Pittsburgh. The couple had nine children. In 1905 Warren moved with his family to Snow Hill, MD. There he purchased 300 acres of forest land where he designed and built a home patterned after a Spanish villa.
The 23-room house, which Warren named "The Forest," was constructed of frame overlaid with concrete stucco to resemble the forest surroundings. Its interior contains a two-story inner courtyard where the artist painted many of his works. The fireplace in the front sitting room is large enough to accommodate 12- to 14-foot logs, and the ceiling of the back sitting rooms has 75 recessed light fixtures to illuminate the rooms.
In conjunction with the exhibition of his paintings at Salisbury University, a public tour of Warren's home will be held in spring 2009. The tour will be organized and conducted by Furnace Town in Snow Hill.
Warren's adventurous spirit surfaced not only in his artistic endeavors, but in his personal life as well. In 1898 Warren and his wife Mary, with their four young children, including a baby, made the trip from Pittsburgh to New York City on a tandem bicycle to which he had attached a "sidecar," thereby inventing (but unfortunately not patenting) the sidecar later used on motorcycles.
Known for his flamboyant personality, Warren is reputed to have said that he wanted "the biggest hat, the biggest car and the biggest house in Maryland." Local residents of Snow Hill recalled seeing him around town wearing a Stetson hat and driving a California Cadillac, and they still marvel at his one-of-a-kind mansion. His family remembers him always with paints and a canvas.
Gallery hours are 10 a.m.-4 p.m. Monday-Wednesday. Admission is free and the public is invited. For more information call 410-548-2547 or visit the SU Web site at www.salisbury.edu.
Additional information on Warren is available at www.frankawarren.com.