Wednesday, May 4, 2016
Ward Museum Receives $300,000 State Grant for New Education Facility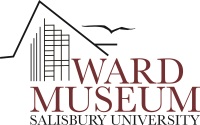 SALISBURY, MD---The Ward Foundation, Inc. recently announced $300,000 in grant funding from the State of Maryland to support the construction of a new education facility at the Ward Museum of Wildfowl Art, Salisbury University — the John A. Luetkemeyer Sr. and Thomas F. Mullan Jr. Legacy Center.

The funding was awarded through the Maryland General Assembly's Bond Bill program which supports capital initiatives throughout the state. The $300,000 state grant is awarded to the Ward Foundation, Inc. - the 501(c)3 non-profit that operates the Ward Museum for the benefit of the community.

The bills supporting this funding were cross-filed with the Maryland Senate and the Maryland House. The bill sponsors were Senator Jim Mathias and the Wicomico House Delegation, including Delegates Carl Anderton, Chris Adams, Mary Beth Carozza, Johnny Mautz and Sheree Sample-Hughes.

The John A. Luetkemeyer Sr. and Thomas F. Mullan Jr. Legacy Center will add 2,200 square feet to the museum and be used as an education center and flexible meeting space to serve the growing needs of educational and cultural programs for all ages. Last year, the Ward Museum increased its educational service to the community by 39%, reaching over 20,000 individuals of all ages with educational programs. The Legacy Center is anticipated to be complete in fall 2016.

"The Ward Museum is grateful for the generosity of the State of Maryland. The Legacy Center positions the museum to support and serve our area with a new level of excellence for years to come" said Dr. Kent Kimmel, Chairman of the Ward Foundation Board of Directors.

About the Ward Museum

Salisbury University's Ward Museum of Wildfowl Art features the world's largest public collection of decorative wildfowl art and antique decoys. The museum is named in honor of famed Delmarva carvers Stephen and Lemuel Ward and strives to lead the way for advancing the understanding of wildfowl art and the interrelationships of art, nature and tradition.

Through educational programs, exhibits and events the museum builds upon the legacy of Steve and Lem Ward to bring young and old to a greater understanding of the human relationship to the natural world. The museum is accredited by the American Alliance of Museums, the highest national recognition for a museum.

For more information contact Bottinelli at 410-742-4988 or lmbottinelli@salisbury.edu.