Friday, March 20, 2015
Waite Earns Daly Computers, Inc. Scholarship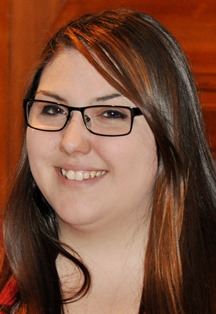 SALISBURY, MD---As a volunteer with Hope and Life Outreach (HALO) Ministries, Salisbury University junior Elizabeth Waite spends most of her free time helping others.
Now, she's getting a little help, too.
Waite, a social work major from Gumboro, DE, is the recipient of SU's $1,000 Daly Computers, Inc. Scholarship. The award was established to assist students who encountered an unexpected financial hardship that could jeopardize their ability to continue their education.
"I am the quintessential poor college student," said Waite. She had hoped to pay her tuition from money earned through her campus job with SU's Publications Office. Once she got behind on her payments, however, she was not sure how she was going to catch up. Leaving college one year short of graduation seemed like a real possibility.
That all changed in less than a day. An SU Financial Aid official encouraged her to apply for the Daly scholarship. She returned the completed form and other required documents within an hour.
"By 10 a.m. the next day, I got a call that they wanted to give it to me," she said.
With her final tuition bill paid for the academic year, she is now saving the money from her job to pay off next semester, as well. After graduation, she hopes to become a school counselor.
For now however, she continues to work with the area's homeless as a volunteer case manager for HALO, helping them find resources for food, shelter and other basic necessities. Aiding others is a passion, she said — one she doesn't plan on giving up any time soon.
For more information on financial aid opportunities at SU, call 410-543-6165 or visit the Financial Aid Office website at www.salisbury.edu/admissions/finaid.