Tuesday, January 27, 2015
Wagner Selected for U.S. Holocaust Memorial Museum Hess Faculty Seminar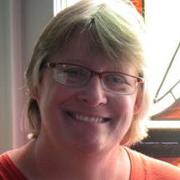 SALISBURY, MD---Images of the Holocaust on film go far beyond Schindler's List and The Diary of Anne Frank.

As a Holocaust scholar, Dr. Diana Wagner of Salisbury University's Education Specialties Department began her own collection of movies depicting the event several years ago after taking a class with Dr. Stuart Liebman, media studies professor emeritus of Queens College CUNY.

When the opportunity came to study with him again, Wagner jumped at the chance to apply. She was selected as one of only 20 educators in the United States and Canada to attend this year's Jack and Anita Hess Faculty Seminar at the United States Holocaust Memorial Museum's Mandel Center for Advanced Holocaust Studies in Washington, D.C.

Co-taught by Liebman and Steven Carr, associate professor of communication at Indiana University-Perdue University Fort Wayne, this year's seminar focused on "Using Film and Media to Teach About the Holocaust."

The topic was timely for Wagner and her colleagues at SU. She is teaching a new graduate course, "Teaching the Holocaust for Social Justice" while Dr. Maarten Pereboom, dean of SU's Charles R. and Martha N. Fulton School of Liberal Arts, is teaching the undergraduate history class "Holocaust: The Extermination of the European Jews." The two courses have complemented each other, and resources from the Hess Seminar will enhance both even more, Wagner said.

"Film can not only document for people the way things happened, or the way they think it happened, but also what happened before and afterward," she said. "We tend to look at history through books, but what happens when we look at it through someone's home movies?"

Through the Mandel Center, Wagner has access to home movie footage of European villages that were devastated by the Holocaust that is not available to the general public. The center's collection also includes newsreels, documentaries, government and propaganda films, and liberation films, as well as representations of the Holocaust in popular culture, from Charlie Chaplin to Steven Spielberg.

"I can be a better Holocaust scholar by knowing what's out there," Wagner said. "There's not a week that goes by that I don't use at least a film clip in my class."

Wagner is the director of the Maryland Holocaust Educators Network. She also is a two-time fellow of the New York-based Memorial Library and Art Collection of the Second World War, home to the national Holocaust Educators Network.

For more information call 410-543-6030 or visit the SU Web site at www.salisbury.edu.