Wednesday, September 21, 2011
Visiting Artists Add Splash of Color to SU this Fall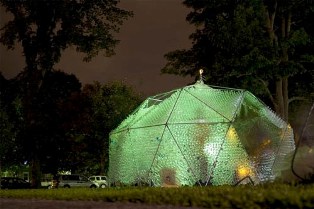 SALISBURY, MD---Visiting artists add a splash of color and mystique to Salisbury University this fall. Guests include:
Wednesday, September 28: Deidra Krieger. This Philadelphia artist's immersive play environment, "Plastic Fantastic," made from more than 6,000 post-consumer water bottles, covering a 16-foot geodesic dome, will be erected for the first time at a university campus on the Fulton Hall Lawn. At 5:30 p.m., she delivers an artist performance based on the multi-year project.
Thursday, October 6: Mark Amerika. One of the leading pioneers of early Internet art, Amerika presents an artist's talk at 5 p.m. in Teacher Education and Technology Center Room 153 in connection with his exhibit CODEWORK, on display at SU's Electronic Gallery through Friday, October 21. His work has influenced a new generation of artists using digital processes to create emerging forms that mix visual art, live performance, cinema and experimental literature.
Wednesday, October 19: Elvis and Arturo Castillo. Known for their colorful wood carvings, these brothers return to campus for a residency in connection with the exhibit "Oaxacan Art," on display October 3-26 in the Atrium Gallery of the Guerrieri University Center. They demonstrate their skills, creating surreal figures commonly called "Alebrijes," from 1-3 p.m. in the Fulton Hall Lobby.
Monday, October 31: John Foster. A world-renowned designer, author and speaker on design issues, Foster presents an artist talk at 1:30 p.m. in Fulton Hall Room 111. His work has been published in many books and magazines, hangs in galleries around the world and is part of the Smithsonian Institution's permanent collection. He has won gold and silver medals from the Art Directors Club, as well as a Best of Show designation from the ADDY Awards.
Sponsored by the Art Department, admission to all visiting artist events is free and the public is invited. For more information call 410-543-6030 or visit the SU Web site at www.salisbury.edu.