Friday, October 14, 2011
Virginia Cyclist Supports Operation Homefront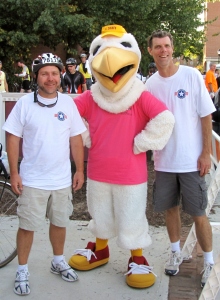 SALISBURY, MD---Many of the 8,000 cyclists expected for Salisbury University's 23rd annual Sea Gull Century are riding to raise funds for charitable causes.

Among them is Gary Fisher (right) of Ashburn, VA, who, for the past three years, has ridden to support Operation Homefront, a non-profit dedicated to providing emergency assistance to the families of service members and wounded warriors. This year, he is raising money to help fund the relocation of the Hooah Lounge recreation center to Dewitt Hospital in Fort Belvoir, VA.

The lounge was originally built at the Walter Reed Army Medical Center in northwest Washington, D.C., with funds raised by Operation Homefront. When the medical center closed earlier this year, as part of consolidation, the lounge needed a new home. With support from Operation Homefront, and funds raised by Fisher in the Sea Gull Century, a new recreation center will be created at Dewitt, one of two new sites for the Walter Reed National Military Medical Center.(The other is in Bethesda, MD.)

.: Related Sites :.

.: Related News :.

"[The Hooah Lounge] was a great success during the three years that it served the wounded warriors at Walter Reed," Fisher said. "We are hoping to recreate a similar facility at Dewitt Hospital. We truly appreciate all and any donations."

For more information about the project, contact Fisher at fisher_va@verizon.net or visit www.operationhomefront.net/dcmetro. For details about the Sea Gull Century and other riders, call 410-543-6030 or visit www.seagullcentury.org.