Friday, January 25, 2013
University Police Issues Winter Safety Tips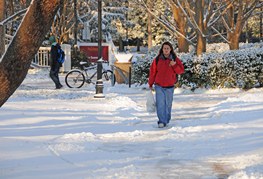 SALISBURY, MD---Salisbury University Police urges the campus community to use caution on roadways and sidewalks this evening and throughout the weekend.
The National Weather Service has issued a winter weather advisory for Wicomico County and the Lower Shore for tonight into Saturday. A light accumulation of snow on surfaces may refreeze into black ice.
Those who must drive on icy roads are encouraged to decrease speed and leave plenty of room for stopping; brake gently to avoid skidding; keep lights and windshield clean; avoid using cruise control; and be especially careful on bridges, overpasses and infrequently traveled roads, which freeze first.
Other safety tips for those who are walking outside include:
• Move with caution and assume all wet, dark areas on pavements are slippery.
• Avoid boots or shoes with smooth soles and heels; get traction from non-slip rubber or grooved soles.
• Use care when entering and exiting vehicles; use the vehicle for support.
• Use designated walkways and the grassy edges of snow- or ice-covered sidewalks or driveways.
• Bend slightly and point feet out to maintain a center of gravity, extend arms for balance and move slowly.
Faculty, staff and students are asked to please monitor local media reports, and check the University Web site and the Gull Line (410-546-6426) for the latest information related to winter weather.