Friday, April 13, 2007
USM Honors Two SU Professors for Teaching Excellence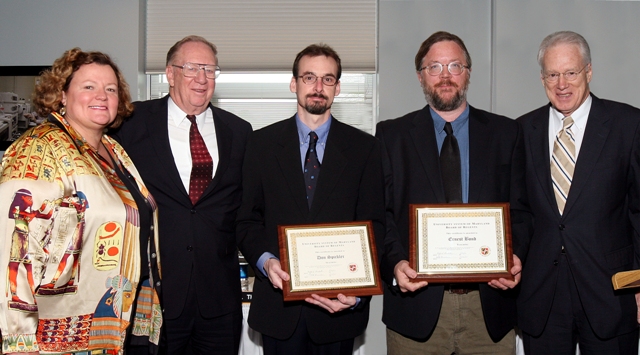 SALISBURY, MD---Two Salisbury University professors have received the highest faculty honor given by the University System of Maryland: the Regents Award for Excellence.
The Regents recognized Dr. Ernest Bond of the Department of Education and Dr. Donald E. Spickler of the Department of Mathematics and Computer Science for teaching excellence Friday, April 13, in Solomons.
"The recognition of these two Salisbury University faculty affirms what our campus community already knows – that they are excellent educators," said SU Provost Thomas Jones. "Our students benefit greatly from the expertise of both professors and their enthusiasm for teaching and learning."
The following are highlights about each honoree:
An expert in children's literature and a valued member of the Department of Education, Bond creates countless opportunities for students to expand their knowledge within the classroom and around the world. In addition to teaching about literature for children and young adults at SU, he guides students as they experience other countries and cultures, such as through a New Zealand internship program.
The realm of his classroom reaches even further with his establishment of a study abroad course in International Children's Literature. In 2005, he first led students to Iceland and England, where several presented their work at an international conference. The next class discovered Australia and New Zealand, meeting more than 60 authors and illustrators, visiting aboriginal schools and attending a children's literature festival. A stop at the European Literacy Conference in Germany is planned for this summer's course.
"With energy and passion, Dr. Bond brings the world into his classroom and takes students into the world," said SU President Janet Dudley-Eshbach. "He is fast becoming the U.S. connection for international authors and publishers in the field of children's literature. His ability to translate his ever-growing knowledge to our education and English majors exemplifies the University's mission of excellence in education, diversity and global awareness."
Bond enriches his classes with his own writing, his work on editorial boards and his development of companion CDs for textbook Web sites. He is a consultant to several children's book publishers and has served for more than a decade on a professional board that judges literature. Through these experiences he continually updates courses with new literary works and introduces renowned authors and illustrators to SU and the community.
Bond opens up the walls of his classroom with innovative technology such as online author visits. He has also created a Web site about tactile books for children with special needs.
"Dr. Bond proves himself to be a teacher at the forward edge of important educational initiatives," said Dr. Nancy Michelson, interim co-chair of the department. "He is committed to international and cultural knowledge, to learning about technological advances, and to staying current with trends in his beloved field of literature for children and young adults."
Bond earned his Ph.D. in education from Ohio State University in 1999.
* * *
Even as a relatively new faculty member, Spickler has greatly influenced the Salisbury University community as a teacher and mentor. In five years, he has developed and instructed more than 21 different courses, and guided students outside of class with independent studies and research projects. A member of the Mathematics and Computer Science department, he is a knowledgeable resource, valued by students and colleagues.
"Dr. Spickler's teaching is so engaging that it spills over into office visits and hallway discussions," said Dr. Kathleen Shannon, chair of the department. "Students appreciate his sense of humor, his generosity and his patience." She added that it's rare to find his office without students working on material above and beyond the norm.
Known for encouraging students to explore subjects outside the typical curriculum, Spickler is credited with engaging six undergraduates in research projects during the past year. Two of his students presented award-winning studies at a Mathematical Association of America conference. He incorporates technology into all of his courses to help students visualize basic and advanced mathematical concepts and to help develop their mathematical intuition. He also is the lead programmer for the PascGalois Project.
Spickler was a significant force behind the department's successful placement of 35 percent of last year's graduating majors (six out of 17) into graduate study programs in mathematics. To better prepare students for the Mathematics Subject GRE exam, he organized and helped host study groups, complete with refresher lectures.
Outside of the classroom, Spickler serves as a mentor to new faculty and has collaborated on course offerings with other departments in the Henson School of Science and Technology.
"He is a knowledgeable and well-organized professor committed to the development of his students by encouraging them to discover the solutions and the excitement of mathematics," said Dudley-Eshbach. "In a field that is dreaded by so many yet so needed by our nation, Dr. Spickler has been able to offer innovative approaches and genuine caring to his students."
Spickler earned his Ph.D. in mathematics from the University of Virginia in 1993.
* * *
For more information call 410-543-6030 or visit the SU Web site at www.salisbury.edu.