Friday, February 29, 2008
USAF Langley Winds Perform at SU March 12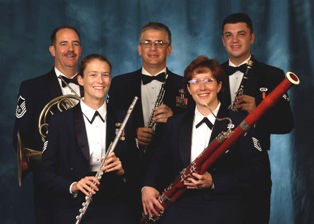 SALISBURY, MD---Making their Salisbury University debut, the Langley Winds perform 7 p.m. Wednesday, March 12, in the Great Hall of Holloway Hall.
Founded in 1997, the predominately woodwind ensemble is part of the U.S. Air Force's Heritage of America Band, which performs for more than 1 million audience members each year in the eastern United States. The ensemble's repertoire includes not only classics from Puccini and Bach, but works from contemporary composers such as Gershwin and Bacharach, spanning more than 250 years of musical tradition.
Under the leadership of oboist John Fritz, the ensemble's members include Roger Novak (French horn), Jeffrey Boehmer (clarinet), Anne Epperly (flute) and Julie Stockdill (bassoon).
Members of the Langley Winds have strong musical backgrounds. Also a saxophonist, Fritz's performances have been lauded by Downbeat magazine. Formerly playing with the Virginia Symphony Orchestra, Novak is also a member of the National Symphonic Winds.
A former player in the West Virginia Symphony Orchestra, Boehmer studied under Ray Still, retired principal oboist of the Chicago Symphony. Epperly has performed at venues including the Strada Faciendo New Music and Dance Festival in Pisa, Italy. Prior to joining the Langley Winds, Stockdill performed with the Air Force's prestigious Heartland of America Band.
Sponsored by the Office of Cultural Affairs, admission is free and the public is invited. For more information call 410-219-2872 or visit the SU Web site at www.salisbury.edu.