Tuesday, April 10, 2007
U.S. Senator Cardin Calls for Environmental Change
By Joseph Gidjunis
The Daily Times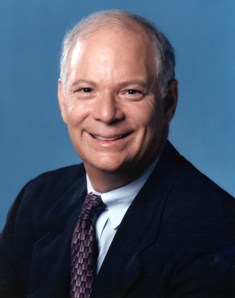 SALISBURY, MD---U.S. Senator Ben Cardin, D-Md., called on hundreds of students and members of the community to begin an "Apollo-like" change to stop global warming and reduce the nation's dependence on foreign energy
The freshman senator spoke at Salisbury University about the federal government's need to become a leader in green technology, requiring a more fuel efficient vehicle fleet and constructing "green" facilities. Cardin said Maryland is the third highest risk state for global warming because the Eastern Shore and region around the Chesapeake Bay, Atlantic Ocean and coastal waters are eroding.
"If you haven't noticed, when it rains on the Eastern Shore, it floods," Cardin said in his speech.
The problem, however, is that global warming is a "gradual" change that isn't immediately seen or felt.
Fortunately, he said, the facts are finally getting out, and he cited the influence of former Vice President Al Gore's movie "An Inconvenient Truth," which won the Best Documentary category at the Academy Awards last month. He also cited international reports, such as those by an diverse group of hundreds of scientists, the International Panel on Climate Change or IPCC, which declared earlier this year that temperatures are rising and levels of greenhouse gases are increasing. The likely culprit is human actions.
"This is not a problem of tomorrow. It is happening today," Cardin said. "This doesn't require a radical change, but it takes a real effort -- an Apollo-like effort."
Cardin said he is calling on his colleagues in Congress, specifically those on the Senate Environmental and Public Works Committee, to support legislation that would reduce carbon dioxide levels to 80 percent below 1990 levels by 2050. He said this is possible by increasing corporate average fuel economy or CAFE standards, entering into a cap and trade carbon dioxide emission program and embracing renewable fuel sources.
Sweeping reforms aren't likely to come instantly, but progress is being made.
"I think we can make some serious changes," he said referring to Congress. "It's not going to pass overnight."
He called on the country to become energy independent, especially considering where the United States obtains its petroleum. He demanded the audience reconsider how they consume energy, too.
"Every time you fill up for gasoline, in a way, you're helping to fund terrorist activities," Cardin said referring to the United States' oil importing partners.
Cardin also said President George W. Bush was wrong for not signing the Kyoto Protocol, an agreement that would have set binding greenhouse emission targets to 5 percent below 1990 levels. Many other developed nations agreed to the terms. He received a strong applause from the audience.
He also said he favors a strong push for public transportation in order to transfer drivers from their cars to buses.
Ashley Eschenburg, a 20-year-old sophomore at Salisbury University, attended Cardin's lecture with her mom, Kathleen, and they both agreed that good points were made by the senator, particularly about how global warming will affect Maryland.
"The Chesapeake Bay grasses -- he said 25 percent have been lost in a year. That's our economy," Ashley Eschenburg said.
"If you have a dead bay, what do you do for tourism?" Kathleen Eschenburg added.
Reprinted with permission of The Daily Times