Thursday, December 3, 2009
Two SU Students Named Gilman Scholars
SALISBURY, MD---Two Salisbury University students have been awarded the prestigious Benjamin A. Gilman International Scholarship for study abroad. Justin Zheng and Mitchell Downes, international studies majors in SU's Fulton School of Liberal Arts, are two of only 800 undergraduate recipients from more than 320 colleges and universities nationwide.
A first generation Chinese immigrant who resides in Princess Anne, MD, Zheng is exploring Latin American Studies through the Salisbury Abroad program in Cuenca, Ecuador. During his time in South America, Zheng has improved his Spanish language skills, networked with fascinating individuals and explored the equator. As for the sight-seeing opportunities, he said: "Despite some bumpy roads that will make your body ache, Ecuador is beautiful."
On the other side of the world, Downes is studying at Tsinghua University, China's most prestigious University, located outside of Beijing. The program is through Global Exchange Center, a Mandarin language institute. Downes, from Preston, MD, has improved his Mandarin language skills and experienced the country's cultural offerings. The most notable opportunity was an excursion to hike a portion of the Great Wall of China at Simatai which Downes called "simply amazing!"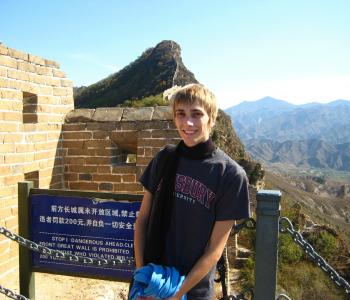 Five SU students have been awarded the Gilman Scholarship in the past two years. Sponsored by the U.S. Department of State Bureau of Educational and Cultural Affairs and administered by the Institute of International Education, it aims to diversify the kinds of students who study abroad and the countries and regions where they travel. Scholars receive up to $8,000.
"The rate of success Salisbury University students have had in winning Gilman Scholarships is a tremendous accomplishment," said Dr. Brian Stiegler, director of the Center for International Education. "SU is committed to promoting the goals of the Gilman Scholarship of making international education accessible to all students."
"Living and learning in a vastly different environment of another nation not only exposes students to alternate views, but also adds an enriching social and cultural experience," said U.S. Congressman Gilman, who retired in 2002 after serving 30 years and chairing the Foreign Relations Committee. "It also provides students the opportunity to return home with a deeper understanding of their place in the world, encouraging them to be a contributor, rather than a spectator in the international community."
To be eligible for a Gilman scholarship, students must be receiving a Federal Pell Grant during that semester. Programs must be a minimum of four weeks and summer-only programs are not eligible. Preference is given to minority students, first-time travelers, applicants from Science, Technology, Engineering and Math (STEM) fields and applicants studying outside Western Europe and Australia. Some 1,300 scholarships will be given in the next academic year.
Applications for fall 2010 Gilman scholarships are due in April 2010. For more information and an application, visit the SU Center for International Education Web site at www.salisbury.edu/INTLED/StudyAbroad or contact Brian Stiegler at bnstiegler@salisbury.edu.