Friday, April 5, 2013
Tushar Gandhi Speaks at SU Wednesday, April 10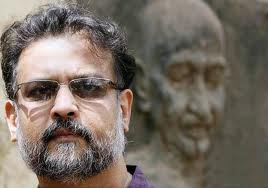 SALISBURY, MD---In 2005, Tushar Gandhi led the 75th anniversary reenactment of the Dandi March originally led by his great-grandfather, Mahatma Gandhi.

Also known as the Salt Satyagraha, this 1930 nonviolent protest against the British salt monopoly in colonial India is credited with triggering the wider civil disobedience movement that helped India gain its independence.

Tushar Gandhi discusses the philosophy of nonviolence and more during the talk "Nonviolence or Nonexistence: the Only Choice" 6:30 p.m. Wednesday, April 10, in the Great Hall of Salisbury University's Holloway Hall. The event is part of the "One Person Can Make a Difference" lecture series, hosted by the Bosserman Center for Conflict Resolution.

In 1996, Gandhi was appointed president of the Lok Seva Trust, a voluntary organization working with factory employees and the economically weaker sections on Mumbai in education, legal aid and health care. He also established the Mahatma Gandhi Foundation to make Mahatma Gandhi's message of nonviolence available globally via the Internet. The foundation earned the inaugural Mahatma Mahaveer Award, for promoting the ideals of Gandhi, in 2005.

In 2001, he was appointed president of the Internet Users Community of India, Mumbai Chapter. He also was invited to join the Mumbai Police Cyber Crime Cell's advisory committee on cyber crime and appointed to a subcommittee of the Gandhi Smriti and Darshan Samiti, a national museum, by the prime minister of India.

In the United States, Gandhi is involved with the organization Seeds for Peace, which works with children. In 2001, he was invited by Peace Initiatives, a non-government organization, to join a group of journalists and social activists to visit strife-torn Kashmir. There, he interacted with leaders of the separatist Hurriyat Conference and the nation's chief minister, among others, to explore the possibility of achieving peace through development and economic programs.

In addition to his efforts to promote nonviolence, Gandhi is the author of Let's Kill Gandhi, a study of the Hindu fundamentalist plot to assassinate Gandhi in 1948.

Admission to his talk is free and the public is invited. The event is sponsored by the Provost's Office, Charles R. and Martha N. Fulton School of Liberal Arts, Graduate Studies and Research Office, Bosserman Center for Conflict Resolution and Conflict Resolution Club. For more information call 410-543-6030 or visit the SU Web site at www.salisbury.edu.