Monday, March 9, 2015
Trillium Ensemble Makes Eastern Shore Debut Saturday, March 28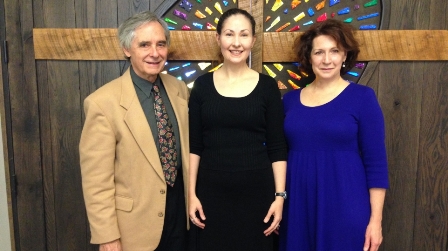 SALISBURY, MD---The acclaimed Trillium ensemble makes its Eastern Shore debut 7 p.m. Saturday, March 28, in the Great Hall of Salisbury University's Holloway Hall.

The program includes Haydn's Trio No. 1 in G Major, Beethoven's Piano Trio in C Minor, Op. 1, No. 3 and Mendelssohn's Trio No. 1 in D Moinr.

Based in Tennessee, Trillium's members include pianist Robert Bonham, violinist Alison Maerker Garner and cellist Alicia Randisi-Hooker. The trio has performed throughout the United States, as well as Europe, South America and India. Its SU performance culminates a weeklong series of workshops and master classes with students on music wellness, education and technique.



A professor emeritus of music at Maryville College, Bonham is a founding faculty member of the Keyboard Wellness Seminar. He offers workshops around the country on keyboard skills, mind and body wellness, and religious tolerance.

Garner has played with orchestras in California, Indiana and Tennessee. She performed with the Irish band Red-Haired Mary for eight years and has released two albums. She also has authored books about music and the arts.

Randisi-Hooker has performed in orchestras and chamber ensembles throughout the United States and Europe. An advocate for music education and chamber music performance, she also teaches Suzuki Association of the Americas summer music institutes and workshops.

Sponsored by the Department of Music, admission is free and the public is invited. For more information call 410-543-6385 or visit the SU website at www.salisbury.edu.