Thursday, March 26, 2009
Tossey Honored With Lifetime Achievement Award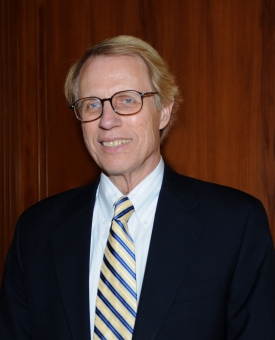 SALISBURY, MD---Recognized for more than 30 years of leadership as a social work educator and professional, Dr. Marvin Tossey of Salisbury University's Social Work Department has been honored with a 2009 Lifetime Achievement Award from the National Association of Social Workers–Maryland Chapter (NASW-MD).
Presented at the chapter's annual conference on Friday, March 27, the award is part of its celebration of National Social Work Month.
According to the association, Tossey and six other honorees receiving awards "represent the best of the founding principles of the social work profession through their quiet determination to make a difference in the lives of others." Tossey, in particular, is recognized for his efforts to keep the field on the cutting edge and to ensure that there is a well-heeled legion of new social workers in the future.
Tossey joined SU's Social Work Department in 1978, and has been chair for the past 24 years. During his tenure, he has spearheaded an array of programs to keep SU at the forefront of the field. Most recently, he conceptualized and initiated SU's satellite distance learning programs for undergraduates and graduates, which has enabled countless students—who may not otherwise have been able to reach the SU campus—to pursue social work degrees. Blending technology with traditional lectures, the satellite programs reach outlying areas of the state with sites in Wye Mills, Elkton and Hagerstown.
Tossey also is credited with establishing the SU's Master of Social Work program which, over the years, has enjoyed a nearly 80 percent increase in students. In addition, Tossey led the development of a unique dual-degree program with University of Maryland Eastern Shore (UMES). Reaching out to minority students, it allows UMES sociology majors to add social work as a second major and graduate from both campuses. The program is highly regarded and other universities nationwide have used it as a model.
"Many of the successes of the Social Work program at Salisbury University are tied directly to Dr. Tossey's creativity and leadership," said Dr. Dennis Pataniczek, dean of the Seidel School of Education and Professional Studies. "He has led the faculty to make the program accessible to more students across the state through the dual degree program, the M.S.W. and the blended distance learning delivery model. He continually challenges faculty to take the program to new heights and works tirelessly to make that happen."
Some 10 years ago, Tossey established the Center for Family and Community Life and the Lower Shore Child Care Resource Center, which provide a wide range of services to social work and government agencies throughout Maryland and Delaware. Besides being valuable community resources, the centers have generated nearly $8 million in grants and contracts for the University.
Despite his work with these many programs, Tossey still teaches classes each semester, sharing his wisdom and experience with new social work students who benefit from his knowledge and insight.
One of the most important aspects of Tossey's character is that he cares deeply about people. Colleagues have said: "He is known to go well out of his way to help students, faculty members or anyone in need. This is the foundation of who he is—a man of passionate concern who has spent a lifetime living out his convictions and upholding the long-held values of the social work profession."
Tossey earned his bachelor's degree in political science and his M.S.W. from Ohio State University, and his Ph.D. from University of Maryland's School of Social Work.
For more information call 410-543-6030 or visit the SU Web site at www.salisbury.edu.