Friday, January 9, 2009
'Time of the Signs' Exhibit Opens January 19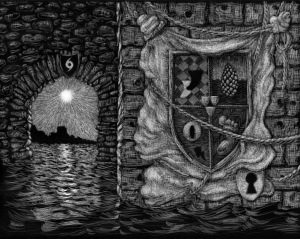 SALISBURY, MD---A new series of scratchboard drawings by Brooke Rogers of Salisbury University's Art Department is featured in the exhibit "Time of the Signs" from Monday, January 19-Wednesday, February 11, in the Atrium Gallery of the Guerrieri University Center. A midday reception is 12:30 p.m. Monday, February 2.
Rogers created the drawings while on sabbatical in 2008. Depicting tumbledown walls and flooded-out places, they are decorated with shields and crests signifying a mysterious figure from long ago.
Rogers has exhibited his work in a number of solo shows at venues including the Dumbarton Concert Gallery in Washington D.C., Arlington Arts Center, National Institutes of Health and Saint Peter's Church in New York. He earned his M.F.A. from the Hoffberger School of Painting at the Maryland Institute, College of Art in 1992. He joined the SU Art Department in 1995 and currently teaches graphic design.
Gallery hours are 10 a.m.-4 p.m. Monday-Wednesday. Admission is free and the public is invited. For more information call 410-548-3972 or visit the SU Web site at www.salisbury.edu.