Thursday, February 5, 2015
Tim Kennard River Run/Walk March 1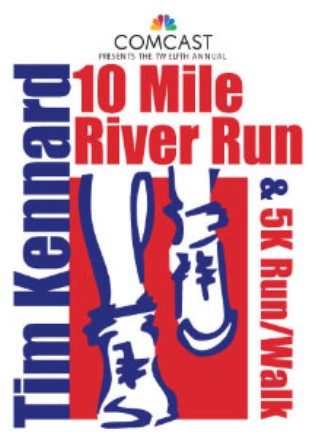 SALISBURY, MD---Registration is open for the 12th annual Tim Kennard 10-Mile River Run, 5K Run/Walk, Non-Competitive 5K Walk and 10-Mile Team Relay, scheduled 9 a.m. Sunday, March 1.

Presented by Comcast, the run starts and finishes at Salisbury University's Maggs Physical Activities Center. Free parking is available in the SU garage on Wayne Street.

The race is held in memory of local runner Tim Kennard, who died of renal cell cancer in 2004. There is equal prize money for males and females in the competitive 5K and 10-miler: $150 for first place, $100 for second and $50 for third in each open division and $50 for the top overall runner in the master division. Custom-designed awards are presented at a post-race party for the first three finishers in each age group for the competitive 5K and 10-mile events. Relay awards are offered for the first-, second- and third-place male, female and mixed teams.



One wish of Kennard was to have race proceeds benefit children and animals. The 2014 run/walk aids Coastal Hospice for children who have had a sibling or parent die from cancer; the Salisbury Horizons Program for economically disadvantaged children; and Coalition of Caring, which works to rescue animals.

Online registration is available at www.timkennard.org or www.mdtiming.com. Mail-in registration forms also may be found at www.timkennard.org. In-person registration is available from noon-5 p.m. Saturday, February 28, at Vernon Powell Shoes and The Athlete, 2401 E. Naylor Mill Road. Pre-registered participants also may pick up their race packets during that time. Day-of registration is 7-8:30 a.m. Sunday, March 1, at Maggs Physical Activities Center.

Registration for the 10-mile relay is $90 per two-person team (each team member must run five miles). Relay participants must register by Thursday, February 26.

Registration for the 10-mile run is $55 through Sunday, February 22, $65 after. Registration for the competitive 5K run/walk is $35 through Sunday, February 22, $40 after. Registration for the 5K non-competitive walk is $25 through Sunday, February 22, $35 after. The first 600 to pre-register receive long-sleeve race T-shirts.

Hosted by Salisbury University, sponsors include Comcast, Geiger Pump & Equipment, Robinson's Jewelry and Clock Store, Vernon Powell Shoes, Choptank Electric Cooperative, Renegade Communications, The Gaudreau Law Firm, Delmarva Power, the University of Maryland Eastern Shore, Apple Discount Drugs, the Bernstein family, the Krometis family, City Florist, Bank of America, Residence Inn by Marriott, River's Edge Apartment and Studio for the Arts, and the Salisbury Independent.

For registration forms or more information contact race directors Linda Mills at 443-783-0558 or Harlan Eagle at 443-944-2563 or harlan@timkennard.org.