Thursday, October 8, 2009
Ticket Now Available For Golden Dragon Acrobats at SU October 19-20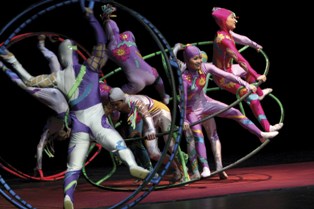 SALISBURY, MD---Since its creation thousands of years ago, acrobatics has become a part of many arts and recreational activities including opera, dance, martial arts and sports.
The Golden Dragon Acrobats showcase this ancient tradition with two colorful shows at 8 p.m. Monday-Tuesday, October 19-20, in Salisbury University's Holloway Hall Auditorium.
From the Cangzhou, Hebei, province in the People's Republic of China, the performers have been trained rigorously in acrobatics since early childhood and are today's premier acrobatic touring company.
Touring in the United States continuously since 1978, the group has performed in all 50 states and over 65 countries. The troupe had its Broadway debut at the New Victory Theatre in 2005, selling out for six straight weeks, and was nominated for two Drama Desk awards.
"Juggling everything from umbrellas to soccer balls—and with props as varied as ladders and giant spinning wheels—the performers show just why they're world famous," said the New York Post. These acrobats prove that "the impossible can be achieved, and once achieved surpassed, then surpassed again," according to the Associated Press. The New York Times called the troupe "charming" and warned holiday staples such as the Nutcracker to "watch out" during Golden Dragon's late December run on Broadway in 2005.
Tickets, available in advance at the Guerrieri Center Information Desk, are $20, $5 for children under 15. For more information call 410-543-6271 or visit the SU Web site at www.salisbury.edu.