Monday, November 13, 2006
Tibetan Monks Share Culture With SU Students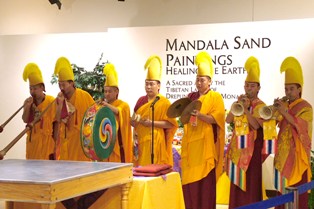 By Katherine Crowell
Staff Writer
The Daily Times
SALISBURY, MD---After spending many hours over five days working on an elaborate sand mandala, the Tibetan monks visiting Salisbury University dismantled the artwork on Sunday.
More than 1,000 people visited the University Gallery in Fulton Hall between Wednesday and Sunday as the 11 monks from the Drepung Loseling Monastery in India created an intricate mandala symbolizing Buddha Akshobya, the Buddha of conflict and resolutions. The monks were visiting Salisbury University at the request of the school's Office of Cultural Affairs.
Throughout the week the monks meditated and prayed for world peace as they built the mandala and students would stop by the gallery in between classes to watch their progress, said June Krell-Salgado, director of the Office of Cultural Affairs.
The mandala, which was made of fine sand ground from marble and dyed naturally into vibrant green, blue, red, pink and yellow colors, was destroyed with a small hand brush shortly after it was completed. This process represents the impermanence of life, said Thupten Chosang, one of the visiting monks. The monks were going to disperse the sand into Beaverdam Creek at the Salisbury Zoo so the water would carry out their meditations and prayers, but the heavy rain Sunday caused the monks to make a last-minute change. Instead, they've decided to take the sand with them and will disperse it at the next place they make a mandala.
Mary Wagstaff of northern California was in town visiting her parents when she decided to come to the monks' closing ceremony because she said the emphasis of impermanence drew parallels with her own life. Her parents are moving out of the house she grew up in, she said.
"Having been away from Salisbury for such a long time, it's nice to see this culture being celebrated," said Wagstaff, who is a self-proclaimed Buddhist.
The monks had a great experience in Salisbury, Chosang said.
"They were all strangers, but they approached us with smiles," Chosang said. "We've had a wonderful response in American and in this place. We will never forget this experience and will share the experience with our friends and family in India."
Several Salisbury University students said they too would not forget the experience.
"I've been both influenced and impressed by the monks themselves," said Patrick Robbins, a junior conflict resolutions major from Wisconsin. "Their concentration and personality and the way they interact with people is pretty inspirational."
Others said they were shocked by the beauty of the mandala.
"I think it is beautiful," said Jeremy Riffle, a freshman from Annapolis. "It's really amazing that they destroy it so soon after making it. It's something different. It's something I've never seen before."
Reprinted courtesy of The Daily Times