Tuesday, May 23, 2017
Three SU Seniors Earn Fulbright Awards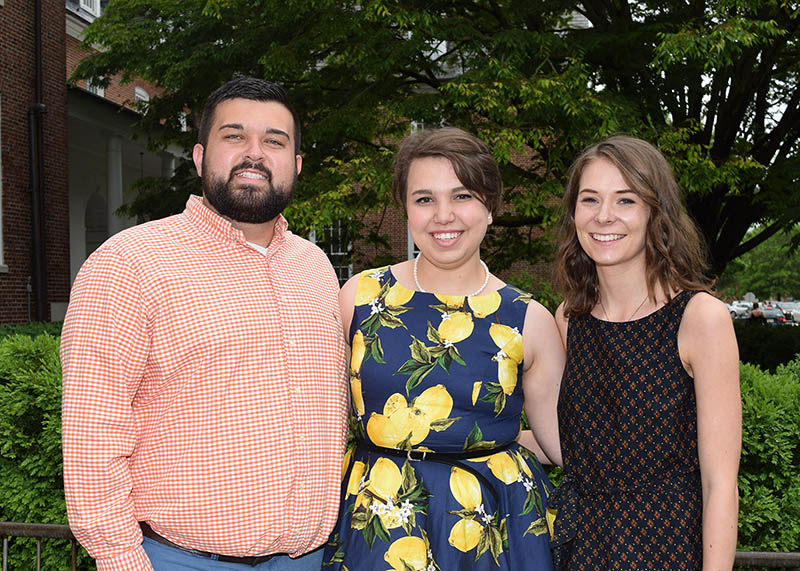 SALISBURY, MD---Three local students have big plans after graduating from Salisbury University: Hannah Ennerfelt will conduct research at a neuroscience lab in her family's homeland of Sweden. Katherine Potvin and Matthew Jones will teach English to students in Asia.

All three SU seniors earned prestigious Fulbright awards — the most winners the campus has ever had at one time.

"Our students are some of the best and the brightest, and we are so pleased that their curiosity, motivation and intellect is being recognized externally through international opportunities such as these," said Dr. Kristen Walton, director of SU's Nationally Competitive Fellowships Office.

Ennerfelt, a biology and psychology double major from Salisbury, departs on her Fulbright in August. Based at Sweden's Uppsala University, the oldest campus in the Nordic countries, she will work with a lab mentor who is conducting ALS stem cell research. She hopes this will allow her to "advance in scientific techniques and make international connections" that will accompany her into her career. She credits much of her success at SU to being able to "build connections with professors who are constantly teaching me something new and fascinating."

Ennerfelt also wants to learn more about the country of her father's family.

"We still participate in many traditions such as food and celebration," she said, adding that she too is a Swedish citizen. "My dad bought me Pippi Longstocking books when I was young to help me learn Swedish, and some of my favorite memories are making cardamom rolls with my grandmother."



.: Related Sites :.

.: Related News :.

Potvin and Jones, who also are Salisbury natives, both won Fulbright English Teaching Assistantships. Potvin heads to Erdenet, Mongolia, in July, for the Otgonbileg School of Technology at the Mongolian University of Science and Technology. Jones leaves in September for Thailand; he will be based in Bangkok initially. Both hope to gain experience outside the American school system.

"As an ESOL teacher, most of my students will have backgrounds very different from my own," said Potvin, an English for Speakers of Other Languages major with a K-12 certification. "By living in a country so removed from the U.S.A., I will be able to gain a better understanding of how my students feel living in a new environment with a language barrier."

Jones, who is majoring in elementary education with an ESOL minor, called the opportunity a "great fit" for his future plans.

"I applied to gain insight into another teaching style much different than the one practiced in the United States," he said, adding that being able to incorporate an appreciation of varied cultures into the classroom will create "a diverse learning environment for all" and "set students up for success."

Mongolia, Potvin said, is undergoing a period of "cultural change," which she looks forward to experiencing first hand. She also is satisfying a childhood curiosity about the country. Jones wants to help build bridges between people around the world and experience the daily lives of the Thai people.

"The difference that Dr. Walton and her office have made in the past few years in building this culture of Fulbright interest among our student body and among the faculty who support our applicants is nothing short of amazing," said Dr. Brian Stiegler, assistant provost for international education. "Our students have brought great honor to themselves and to SU."

More than 20 SU students have won national (and international) fellowships, scholarships and awards in the past five years, including the Gilman, Gates Cambridge and others with the U.S. State Department, Environmental Protection Agency and National Science Foundation. Previous student Fulbrighters include Payge Jennings '14 (B.A. communication arts) and Emily Lembo '14 (B.A. English), who earned English Teaching Assistantships to South Korea. Charles Overholt '11 (B.A. history) was SU's first graduate student to earn a study/research Fulbright to Marburg, Germany. In addition, SU has a long history of faculty, administrators and alumni Fulbrighters.

The Fulbright is America's flagship international exchange program and is sponsored by the U.S. Department of State's Bureau of Educational and Cultural Affairs.

SU students or alumni who are interested in applying for any fellowships may contact Walton at kpwalton@salisbury.edu for assistance. For more information, visit www.salisbury.edu/nationalfellowships.