Thursday, February 17, 2011
Ten Students Awarded Sea Gull Century Scholarships
SALISBURY, MD---Sea Gull Century riders raise thousands of dollars annually for charities including the Alzheimer's Association, American Cancer Society and area nonprofits. One other group that benefits is Salisbury University students.
Each year, proceeds from the century and extra donations from riders provide scholarships to deserving students who have participated or served as event volunteers. This year, 10 scholarships were awarded in memory of the late D. Page Elmore, who since 2003 had served the Eastern Shore community as a representative in the Maryland House of Delegates. He also was a board member for the SU Foundation, Inc. and the Edward H. Nabb Research Center for Delmarva History and Culture.
The recipients are: Lili Afkhami and Jon Nolan, both graduate students from Salisbury who are studying post-secondary education; Rebecca Brannock, a junior biology major from Church Creek; Kandice Hancock, a senior exercise science major from Westover; Jessica Koller, a junior athletic training major from Salisbury; Amy Matonak, a senior mathematics and computer science major from Hagerstown; Tara McGovern, a junior nursing major from Yorktown Heights, NY; Kimberly Palenchar, a junior psychology major from Princess Anne; Amanda Weisgerber, a junior physical education major from Salisbury; and Erin Will, a senior athletic training major from Westminster.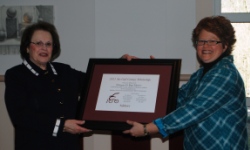 Elmore's wife, Carolyn, attended a luncheon reception honoring the scholarship winners. She reminded them of the importance of serving others and being leaders on campus and in their communities.
Selected by the Sea Gull Century Scholarship Committee, the awards are given annually and are renewable for up to two years. Students must have a minimum 3.0 grade point average. Amounts range from $500 to $1,000.
For more information call 410-677-5416 or visit www.seagullcentury.org.